4 Creative Wedding Guest Book Ideas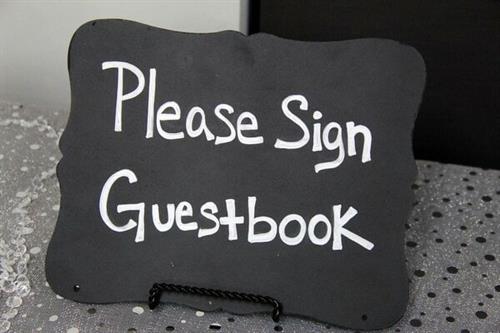 Wedding guest books are a treasured way to preserve the memories from your special day. If you want to break the mold from the traditional book format, there are numerous fun ways you can record your guests' well wishes. Here are some of our favorite creative guest book ideas from Pinterest, broken down by wedding theme.



1. RUSTIC WEDDING


Rustic themes incorporate time-worn pieces of furniture and accessories. This is much like a vintage theme, but is more casual in its approach. There are lots of fun ways to incorporate this theme into your guest book choice.

If you have the space to save it, consider setting out an old-fashioned bench and having your guests sign it with their names and marriage advice. Consider how nice it'll be to sit on it with your future spouse and reminisce in years to come. https://www.pinterest.com/pin/31384528628270374/

Another idea that fits with the theme would be to use an old fashioned-style quilt and have guests sign the individual squares. Not only will this fit in with the rest of your wedding décor, but it will be a warm blanket to snuggle up under with your spouse after the wedding.

https://www.pinterest.com/pin/266345765439300111/



2. VINTAGE WEDDING


This style is very similar to rustic in that it favors décor from yesteryears; it differs in that is seeks out refined furnishings, like French chairs, lace fabrics, pieces of chandeliers and gilded sconces, over old and time-worn ones.

An easy and inexpensive guest book could include a vintage globe. This is especially perfect for couples that love or plan to travel a great deal together. https://www.pinterest.com/pin/396035360960001288/

We loved this pin, because it could work for a variety of wedding styles: https://www.pinterest.com/pin/381609768405728285/ Basically, you choose the style of frame that best matches your wedding, be it vintage, rustic or modern, have people pen their message on wooden circles or hearts and then have them stack the messages into the frame.



3. MODERN WEDDING


Celebrate your love of "right now" at your modern themed wedding with some tech-inspired guest book ideas. For example, you can set out an iPod and have guests record short video messages. This will make for a great addition to your wedding video. https://www.pinterest.com/pin/101682904063307881/

Another tech savvy idea is to have an Instagram photo challenge, where you have guests post pictures with a specific hashtag. It might be a good idea to have a back-up for those guests that don't engage in social media. https://www.pinterest.com/pin/31384528630726641/



4. FABULOUS FUN WEDDING


These guest book ideas aren't so much in line with a specific theme as they are just really fun. Imagine what a blast you could have with a Jenga guest book — guests sign individual pieces and you get to remember that happy day during endless game nights to come. https://www.pinterest.com/pin/31384528629839084/

Let your guests contribute to your new "family tree" with a thumbprint tree. https://www.pinterest.com/pin/31384528628904029/

Is there anything more romantic than a message in a bottle? With a message-in-a-bottle guestbook, attendees can write their wishes and advice and slip it inside a series of bottles, to be opened by the couple either right after the wedding or on their first anniversary. https://www.pinterest.com/pin/31384528629347361/

Now that you have your guest book decided check out our blog "5 Wedding Reception Ideas" for more inspiration.

Planning a wedding can be an all-consuming task. The event-planning staff at Superstition Mountain Golf and Country Club can take some of the work off your plate, helping you keep track of all the little details like ordering the guest book, planning out the menu or selecting the perfect DJ playlist. They offer a beautiful alternative to Mesa wedding venues, with five different options to choose from. Contact us today about your big day and let us help you create the wedding of your dreams.