LPGA Tour Players
At Superstition Mountain Golf and Country Club, we are privileged to have several professional golfers practice on our award-winning
Jack Nicklaus designed courses
throughout the year.
Click the names below and read more about these amazing players and all they have accomplished on the course.
+ Carlota Ciganda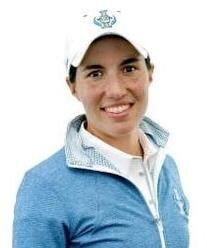 Born in Pamplona, Spain, Carlota started to play golf at age five, influenced by her father.
She turned professional in May 2011, making her debut the following month at the Tenerife Ladies Match Play where she finished second. She competed on the Ladies European Tour Access Series that season, winning the Murcia Ladies Open.
In her first full season on the 2012 Ladies European Tour, Ciganda won the ISPS Handa Order of Merit and was also named Players' Player of the Year. She played in 19 tournaments, with two victories at the Deloitte Ladies Open and the China Suzhou Taihu Open and had ten additional top-10 finishes. Her efforts won her the LET Rookie of the Year award and she ended the season ranked second on the European Solheim Cup.


Career Highlights: 2019

23 events, 22 cuts made, $998,654 (15)
Won the inaugural season-long Aon Risk Reward Challenge and $1 million prize
Posted eight top-10 finishes including three of the five major championships and a season-best runner-up finish at the Bank of Hope Founders Cup
Member of the European Solheim Cup team with an overall record of 6-6-4
Career Highlights: 2018

25 events, 22 cuts made, $1,244,610 (8)
Had a career-best nine top-10 finishes and finished a career-best eighth on the LPGA Official Money List with $1,244,610
Crossed the $4 million mark in career earnings with career-best finishes at both the U.S. Women's Open (third) and the Ricoh Women's British Open (T7)
Ranked second in rounds under par (68), seventh in rounds in the 60s (42) and eighth in scoring average (70.09)
Carlota and her journey in her own words:
I began playing golf at the age of 5 with my father at the local course where my parents live. My dad has been a big influence on my career, always supporting and never pushing me. I come from a very sporting family, my uncle (dads brother) played soccer (1st division) for Athletic Bilbao and Spain. Growing up I played tennis, soccer, swimming and golf. At the age of 8 I went to my first Spanish Championship. Over the coming years I represented Spain in numerous International events and also represented Europe in the junior Ryder Cup and junior Solheim Cup. I won the European individual Championship at the age of 14 and British amateur when I was 17, and finished 2nd as a team at the World Amateur in Australia. At the age of 18 I was invited to visit Arizona State University and it was one of the best decisions I have ever made. Coming to college in the states not only helped with my golf game but also I grew a lot as a person. Being far from home made me realize who were the important people in my life. I had such a great time playing for the team. We won 5 out of the 8 events of the year during my first semester, including regionals, conference (pac10) and national championships. I won back to back pac10 and I was an all American every year.
In 2012, I decided to turn professional and started my career in Europe. I played on the European Tour for 2 years, which included 2 victories during my rookie season as well as Player of the Year and Rookie of the year awards. In 2014 I decided to play more on the LPGA. I wanted to compete against the best players in the world. I have played 4 full years on the LPGA, winning twice and representing Europe at the past 3 Solheim Cups. I am currently ranked 22nd in the world and I am looking to climb the rankings this coming year. I feel very lucky to have the opportunity to practice/ play at Superstition Mountain Golf & Country Club. I am excited to meet my new friends at Superstition.
+ Mina Harigae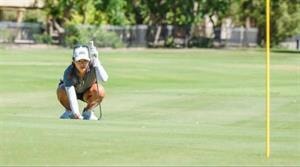 Born in California, Mina Harigae began playing golf at age 8. She grew up on the Monterey Peninsula, where her parents own a sushi restaurant, Takara. At 12 when she won the first of four California Women's Amateur Championships, all while under the tutelage of Jim Langley, the legendary professional at the Cypress Point Club. Harigae won the U.S. Women's Amateur Public Links at 17. Mina played the Futures Tour (now called the Symetra Tour) in 2009, won three times and was its leading money winner, which earned her a promotion to the LPGA in 2010.
Career Highlights 2019:

21 events, 11 cuts made, $103,608 (109)
Recorded one top-10 result, T9 finishe at the Thornberry Creek LPGA Classic
Career Highlights 2018:

21 events, 13 cuts made, $188,279 (83)
Recorded two top-10 finishes including a season-best T7 finish at the Indy Women in Tech Championship Driven by Group 1001, where she carded a season-best 65 in the third round
+ Dana Fall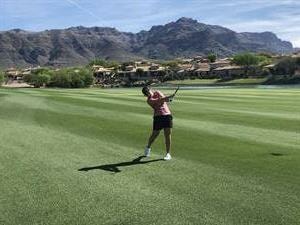 Born and raised in Chandler, Arizona Dana Fall played high school golf at Corona del Sol. She attended the University of Nevada Las Vegas and graduated in 2015 with a degree in Kinesiology. During her time at UNLV she won 5 times, was a 2 time All-American, and in her senior year finished runner-up for the ANNIKA Award, which honors the player of the year in collegiate women's golf. After graduating, she turned professional and played a full season on the Symetra Tour in 2016. She recorded seven top 10 finishes including a victory at the Garden City Charity Classic which helped her to finish 7th on the Volvik Race for the Card Money list to earn LPGA membership for 2017. During her rookie year on the LPGA she finished #1 in driving accuracy. In 2018, she returned to the Symetra Tour and again received LPGA membership at the end of the season to gain full LPGA status for the 2019 season.
Career Highlights 2019

20 events, 12 cuts made, $114,081 (106)
Recorded a career-best T11 finish at both the ShopRite LPGA Classic and the Marathon Classic
Finished third on Tour in Driving Accuracy (82.90%)
Career Highlights 2018

Two runner-up finishes were part of six top-10 results in 2018 on the Symetra Tour
Had the best par-3 average (2.895) on the Symetra Tour and was third in driving accuracy at 85.2 percent in 2018
Finished tenth on the Symetra Tour Official Money List to earn membership for the 2019 LPGA Tour season
Dana and her journey in her own words:
I started playing golf when I was a young girl. My dad cut down some old golf clubs for me to use and he would take me to the driving range with him to hit golf balls. I was hooked ever since! I played other sports growing up including basketball, soccer, and softball, but there was something special about golf and that is what I decided to focus on. I played locally in tournaments with Girls Golf of Arizona and the Junior Golf Association of Arizona when I was developing as a junior golfer and then started playing some national tournaments when I was in high school. I was recruited by the University of Nevada, Las Vegas and decided to play college golf there. I had a great college experience, and with the help of my coaches, I was able to grow a great deal as a player. I realized that my game was good enough to play professionally and after graduating with a degree in kinesiology in 2015, I turned professional and decided to live my dream and play golf as a career. I made it through all three stages of LPGA Q-School and received Symetra Tour status for 2016. Over the last 5 years as a professional, I have spent 2 years on the Symetra Tour (2016&2018) and 3 years on the LPGA (2017, 2019 & 2020). My game has continued to improve every year and I am excited to continue my journey as a professional golfer. I have great memories of coming to Superstition Mountain Golf & Country Club as a young girl to watch the LPGA play and I am so grateful that I now get to call it my home. All of the members and staff are so welcoming and nice and I love being a Member!
+ Charlotte Thomas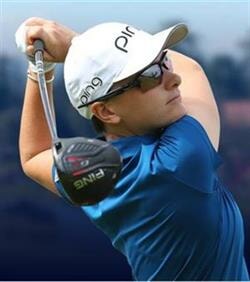 Charlotte started playing golf when she was eleven and living in England. Her brothers had rugby training at a local club and there was a public driving range next door. She and her mom would go hit balls while they practiced and it was there that she was spotted by her coach. She moved to Singapore when she was 13 and has lived in four countries on four different continents throughout her life.
Charlotte came to college in the US in 2012, attended the University of Washington before turning pro and playing on the Symetra Tour for two years. She was able to graduate to the LPGA in 2018 and has loved every second of her rookie year in the big leagues. She has recently moved to Arizona where she feels is the perfect place to be to grow her game and get ready for year two on the LPGA tour.
Thomas enjoys exploring new places, going to local restaurants, reading, hiking, water sports and meeting new people.

Career Highlights 2019
22 events, 11 cuts made, $181,596 (79)
Recorded two top-10 finishes with a season-best tie for second at the ISPS Handa Vic Open in her rookie season
One of the straightest hitters on the LPGA Tour, ending the 2019 season in 28th place on the driving accuracy charts with an average of 76.92%
Career Highlights 2018
10 top-20 finishes in 2018 on the Symetra Tour, including six top-10 results
Posted a career-best result of second place at the 2018 Sioux Falls GreatLIFE Challenge
Ranked third on Tour in sub-par holes (231) and fourth in birdies (224)
Finished eighth on the Symetra Tour Official Money List to earn membership for the 2019 LPGA Tour season
+ Caroline Inglis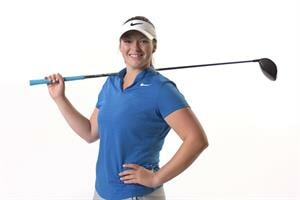 Caroline was born and raised in Eugene, Oregon and began playing golf when she was 13 years old. In high school she won the state tournament 3 years in a row. Caroline played collegiate golf at The University of Oregon where she majored in Sports Marketing and Business. Her amateur highlights include winning the 2015 PAC-12 Conference Championship and being named to the First Team of the PAC-12 Conference. She won the Transnational Amateur in 2015 and led her University of Oregon team to a T-5 finish at Nationals her senior year in 2016. After college, she turned professional and played her first year of professional golf on the Symetra Tour. In 2018 she played her rookie season on the LPGA with 1 Top 10 finish and 3 other Top 15 finishes. At the end of the season Caroline injured her back and took the 2019 season off to have surgery and recover. She is eager to make a strong comeback and get back out on tour in 2020. Last September Caroline got married in Portland, Oregon to her husband Taylor and they honeymooned in Thailand. Outside of golf she enjoys hiking, spending time with friends and family, cooking, hosting game night, and watching sports.
Career Highlights 2019:
Missed the 2019 LPGA Tour season due to a back injury, which required surgery
Career Highlights 2018:
21 events, 16 cuts made, $201,365 (79)
Collected her first career T-10 finish, at the HUGEL-JTBC LA Open
Posted a career-low round of 66 in the final round of the Indy Women in Tech Championship Driven by Group 1001 where she tied for 16th
Caroline's Journey in her Own Words:
My Dad introduced me to golf when I was about 13 and signed me up for a junior golf camp that summer. I instantly fell in love with the game and I cherish the memories of playing with my Dad and my brother when I was just starting out. In high school I starting improving quickly and ended up winning 3 out of 4 state tournaments. I decided to stay close to home for college and attend the University of Oregon. I grew up a huge Duck fan and for me it was a no brainer to continue my education at the U of O. I was so lucky to have an amazing coach and teammates, many of whom I am still great friends with. My college years are some of my favorite and I will always have a special place in my heart for the University of Oregon. Once I graduated from U of O I turned professional and moved to Portland. I played my 2017 season mostly on the Symetra Tour with a few LPGA events mixed in. I got my full LPGA card for 2018 and had a good season as a rookie. I injured my back late in the 2018 season and was out for the 2019 season recovering from surgery. I am all healed up now and can't wait to start back up this year! I absolutely love playing on the LPGA, it's truly a dream come true. Outside of golf I love to spend time with my husband Taylor and my friends as well as hiking, cooking, and reading. I spend summers back home in Portland and winters in Arizona. I feel so lucky to be a part of the Superstition Mountain family and can't thank the staff and membership enough!
+ Jennifer Kupcho
LPGA Player, Jennifer Kupcho spends time perfecting her game at Superstition Mountain Golf and Country Club, but the journey didn't start here. Jennifer started playing golf at the young age of 5, and competed in her first tournament by age 8.

Jennifer Kupcho played her collegiate golf at Wake Forest University. As a three-time First Team All-American, she amassed nine career victories during her time as a Demon Deacon - including two NCAA Regional events and the 2018 NCAA Championship. She also played in other prestigious amateur events such as the Curtis Cup, Palmer Cup, and World Amateur Team Championship, where she helped the American teams to victory all three times. One of the other highlights of her amateur career was playing in the Inaugural Augusta National Women Amateur, which she won in a dramatic duel against her friend Maria Fassi. Due to her resounding success as an amateur, Jennifer spent a total of 34 weeks as the #1 amateur in the world.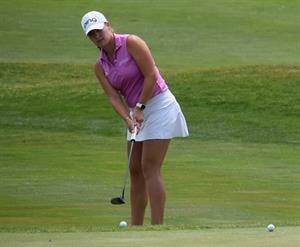 Prior to her senior season, Jennifer played in the LPGA Qualifying School where she successfully earned her LPGA Tour card but chose to defer her status until she graduated. Following her graduation, she turned pro and made her women's golf debut at the 2019 US Women's Open at the Country Club of Charleston. Her professional highlights so far include three top-10s, one of which was a T-2 finish at the women's fourth major championship of the year, the Evian Championship. Off the golf course, Jen enjoys playing other sports, board/card games, andbinge-watching a new find on Netflix.

Career Highlights 2022
Won the Chevron Championship
Career Highlights 2021
23 events, 19 cuts made, $591,680 (35)

Recorded five top-10 finishes, including a season-best runner-up finish at the LPGA Drive On Championship at Golden Ocala

Member of the U.S. Solheim Cup Team
Career Highlights 2020
14 events, 10 cuts made, $381,160 (29)

Recorded both a season-best and tied a career-best finish with her runner-up performance at the ShopRite LPGA Classic

Shot a career-low (65) in the second round of the ShopRite LPGA Classic; matched in the third round of the same event, and the second round of the KPMG Women's PGA Championship
Career Highlights 2019
19 events, 11 cuts made, $525,432 (39)

Recorded three top-10 results in her rookie campaign

Earned a career-best LPGA Tour finish at the Evian Championship, where she finished T2, two shots behind winner Jin Young Ko
Career Highlights 2018
Finished second at the inaugural LPGA Q-Series to earn Priority List Category 14 status for the 2019 season; competed as an amateur and turned professional in May of 2019
+ Brianna Do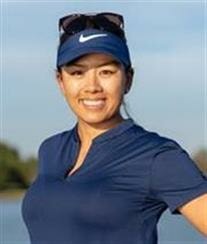 Brianna and her Journey in her own words:
My name is Brianna Do and I was born and raised in Long Beach, CA. I started playing golf at the age of 8. I graduated from UCLA with a Bachelor's degree in Sociology and turned professional after graduating in 2012. I played mostly on the Symetra tour in 2012-2015. In 2015, I gained my full LPGA card by finishing top-10 on the Symetra season ending money list. I have spent most of my time on the LPGA from 2016 until now. My best finish is 15th at the Indy Women in Tech Championship Driven by Group 1001 in Indianapolis, Indiana. When I am not golfing I enjoy reading books and watching Netflix.
---
Proud Host of the 2023 LPGA Drive On Championship