Dining & Social Events
Superstition Mountain Golf and Country Club offers a wide variety of dining options ranging from casual to fine dining, as well as a full social calendar filled with events and activities for all ages. Discover the different dining options, menu selections and social activities available to Members and their guest.
Superstition Mountain offers formal, casual and outdoor dining options, featuring stunning views in a friendly atmosphere. Whether you're looking for a quick meal, a family gathering, or a formal dinner, we have the perfect choice for your dining experience.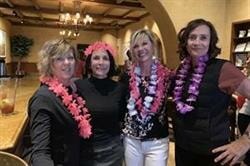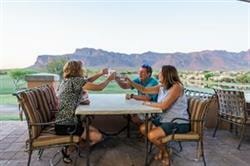 The Dining Room: Discover a culinary sensation with attentive waiting service and exceptional fare. A large selection of fine wines complements your dining experience. With stunning views, elegant ambiance, and exquisite gourmet creations the restaurant at Superstition Mountain is the perfect place to dine. Wrap-around patios provide the perfect venue to appreciate Arizona's enviable weather and of course the Superstition Mountains.
The Bar: Whether you are coming off the course for a quick bite to eat after a round of golf, joining friends for a light lunch, or enjoying a cocktail after a long day at work, the bar at Superstition Mountain has a relaxed and casual atmosphere, with delicious cuisine made from the season's freshest ingredients to bring you delightful flavors with a creative twist.
Patio and Sunset Terrace: The perfect place to dine al fresco! This outdoor space gives Members the opportunity to drink, dine and take in the beautiful scenery of the 18th green of Prospector, while relaxing with family and friends under the sun or stars.
Private Dining: Entertain friends and family in this beautiful intimate setting. From the restaurant foyer, enter our Private Dining Room and be enchanted. Choose from premiere menu selections or work one-on-one with our Executive Chef to create your own signature menu. The Private Dining Room is the perfect place to celebrate your special occasion.
480-677-6663
Cash or Member Charge Only.
Starters

French Onion Soup Gratinee
6

Soup of the Moment
5/7
Jumbo Chicken Wings
Seasoned Crispy Wings, Carrots, Celery, Ranch, Buffalo Dipping Sauce
15
Panko Breaded Chicken Fingers
Three Lightly Pounded Chicken Tenders, Ranch, Buffalo Dipping Sauce
13
Basket of Crisp Onion Straws
Sonoran Flour Dusted, Sweet Chili Aioli
8
Pretzel Bites
Beer Cheese, Wholegrain Beer Mustard
13
Southwest Egg Rolls
Chicken Breast, Peppers, Onions, Black Beans, Toasted Corn, Hatch Cheddar, Avocado Sour Cream
13
Farm & Garden
Strawberry Spinach*
Strawberries, Apricots, Boursin Cheese, Cardamom Pecans, Raspberry Vinaigrette
14
Gold Canyon Salad
Spring Greens, Roasted Beets, Goat Cheese, Tomatoes, Sunflower Seeds, Walnuts, Pickled Onions
14

Add Chicken, Salmon, 3 Shrimp, Sliced Skirt Steak


Traditional Caesar
Romaine Lettuce, Caesar Dressing, Croutons, Parmesan (Or Sub Black Kale)
12
Grilled or Crispy BBQ Chicken
Romaine, Cherry Tomatoes, Red Onion, Crispy Wontons, Cheddar Cheese, Ranch Dressing BBQ Drizzle
16
SANDWICH & MORE


Deli Sandwich


Turkey, Ham, Chicken or Tuna Salad, Green Leaf Lettuce, Tomato, Wheat Bread

13

You Pick Two


Half Deli Sandwich or BLT, Half Spinach or Caesar Salad, or Cup Of Soup

10

Classic Burger*


Bacon Burger, Cheddar Cheese, Green Leaf Lettuce, Tomato, Shaved Red Onion, Brioche Bun

15
Add Fried Egg +1

Italian Beef


Shaved Prime Rib, Giardiniera, Mozzarella, Parmesan Aioli, Toasted Italian Roll

16

Crispy Rhode Island Haddock Fish Sandwich


New England Style Tartar Sauce, Lettuce, Tomato, Brioche Roll

14

Lost Dutchman Chicken Sandwich


Crispy or Grilled Chicken, Bacon, Hatch Chile Cheddar, Jalapeno Jelly, Arugula, Brioche Bun

14

Southwest Power Bowl


Cilantro Rice, Black Beans, Roasted Corn, Pineapple & Strawberry Pico, Avocado

10
Add Chicken, Salmon, 3 Shrimp, Sliced Skirt Steak

All Beef Kosher Hot Dog


Sauerkraut, Beer Mustard, Hawaiian Roll

10

Supreme Pizza


Peperoni, Sausage, Mushroom, Olives, Bell Peppers, Onions

17

Hawaiian Barbecue


Chicken, Shaved Red Onion, Ham, Pineapple, Sweet Peppers, BBQ Sauce

17
Gluten free items marked with an asterisk*
Some foods may contain raw or undercooked ingredients. Consuming raw or undercooked meats, poultry, shellfish or eggs may increase risk of food-borne illness.
Beyond the many rich amenities and attentive services, there is an active social calendar throughout the year, making life at Superstition Mountain Golf and Country Club fun and exciting. Discover the many social events offered here at the Club.


Annual Club Calendar
Valentines Day Dinner
Dance Felines, Canines & Wine
Farm to Table Dinner
St. Patrick's Day Celebration
Cars and Cocktails
Dueling Pianos
Easter Brunch
Spring into Summer Party
Fall in to Winter
Turkey Trot
Thanksgiving Feast
Toy Drive and Pancake Breakfast
Member Holiday Party
Santa Brunch
New Year's Eve

WEEKLY EVENTS
Member Mixer
Bocce Leagues
Game Night
Bridge
Partners Bridge
Mahjong
MONTHLY SOCIALS
Speaker Series
Coffee & Cars
Pasta Night
Trivia Night
Wine Dinner
Cooking Classes
Supper Club
Pop Up Dinner