5 Food and Drink Pairings for Fall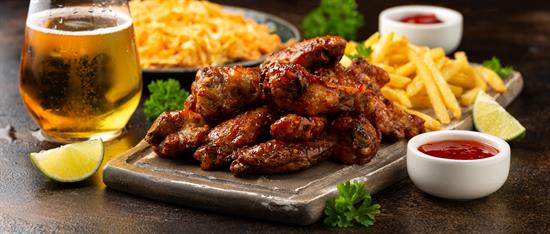 Fall is in the air here at our private golf course community, which means it's time to start cooking up your favorite seasonal dishes. If you're looking for something new, we've rounded up a few must-try fall food and beverage combinations. These pairings are perfect for lunch, or dinner, and are sure to put you in the fall spirit.
Sweet Potatoes and Pinot Noir
Sweet potatoes are a staple dish during the fall months. Whether you're cooking up sweet potato fries, pies or mashed potatoes, this delectable food seems to be found everywhere during this time of year. For a perfect pairing, consider enjoying your sweet potatoes with a glass of pinot noir. The light red wine goes wonderfully with this sweet potato Shepherd's Pie recipe from Taste of Home. This pie also makes a great addition for your Thanksgiving table.


Buffalo Wings & Masala Chai Tea
With fall comes football. If you're gearing up to spend your Sundays watching the NFL, a plate of buffalo wings is the ideal game day grub. Consider snacking on your wings with Masala Chai tea. The spicy undertones of the aromatic Indian tea bring out the spicy kick in the wings. It may sound like an unusual pairing, but it's definitely worth a taste test.


Chili and Oktoberfest Beer
The name alone makes it pretty obvious that Oktoberfest beers are especially popular in the fall season. This style of beer has full herbal and malty flavors that pair well with spicy foods. The toasty, warm flavored malts and light hops pair well with the zesty tastes of hotter dishes. Try an Oktoberfest beer with a bowl of spicy chili. The tangy flavor in the chili will also bring out the spicy components in the beer.


Pasta Carbonara and Hard Apple Cider
When you think of hard apple cider, you probably imagine pairing the drink with common fall desserts like cinnamon donuts, pumpkin pie, or gingerbread. While these are super tasty, hard apple cider is also a great beverage to have at the dinner table. Next time you pour a glass, try sipping on it with a hearty plate of pasta carbonara. The crisp cider cuts through the richness of the creamy pasta, creating an unbelievable taste sensation.

Pumpkin Cheesecake and Americano Coffee
One of the best parts of fall is enjoying the decadent, seasonal desserts. This pumpkin cheesecake is delicious with a cup of Americano. Unlike other coffee variations, Americano coffee brings out the strong and bitter flavor of the coffee bean. A creamy, smooth and rich dessert like pumpkin cheesecake is a great complement to the coffee's flavor. This pairing is perfect for an after-dinner dessert on a cool fall night.

These are just a few pairings that you can make on your own throughout the fall season. If you'd rather have us do the cooking, visit our dining room. Our talented culinary team here at Superstition Mountain Golf and Country Club offers a variety of incredible dishes that you're sure to love. For more information, visit SuperstitionMountain.com or call 480-983-3200.