5 Golf Fashion Trends for Fall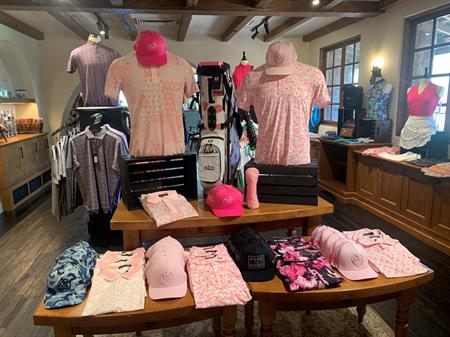 As we head into fall and cooler weather, golf fashion is heating up here at Superstition Mountain. At our private, golf course community, we believe golfers are more likely to play their best when they feel their best. Our club merchandiser, Betsy Miller, shares some of the hot fashion items golfers should be on the lookout for as we get ready for the fall and winter seasons.

1. Zero Restrictions Outerwear
Ideal for a cool fall morning, this quarter zip jacket from Zero Restrictions is a closet staple. The sleek and soft design works well for layering different clothing pieces and is super lightweight. Not only are these great to sport on the course, they are perfect for working out at the gym, grabbing a post-golf meal in our dining room, heading to work or for casual everyday wear.

2. The P Hat from Puma Golf
Made famous by Rickie Fowler, the P hats from Puma Golf are stirring up a huge buzz among golfers. These hats are available in a variety of styles and colors, but all share the commonality of a large, stitched "P" on the front. The "P" stands for Puma, but it can also represent performance, passion, power…you decide what it means to you. If you want to be at the forefront of the latest trends, we suggest adding one of these P hats to your wardrobe.
3. TzuTzu Skorts & Dresses


TzuTzu skorts and dresses have been a big hit on and off the course this past year. Featuring a wide variety of colors and patterns, they spark confidence and fun in golfers of all ability levels. Expect to see these items pop up more often this season. They're also especially great for fall in Arizona, as we generally experience a warmer season than other parts of the country.


4. Men's Golf Shirts from AndersonOrd


Created by the original owner of Lululemon, AndersonOrd combines fashion and performance into its golf apparel. The brand's golf polos are quickly increasing in popularity throughout the golf community and are well-suited for Arizona due to the light and soft AO1 design. The AO1 design is an apparel material that controls moisture and odor, ensuring you stay cool and dry even on the warmest of days.
Look out for these popular items (and more!) coming this fall to Superstition Mountain Golf and Country Club's golf shop. Members and guests can also find a wide variety of other retail and equipment at the shop from top brands such as Callaway, TaylorMade, Titleist, PING and more. To learn more about Superstition Mountain, visit SuperstitionMountain.com or give us a call at 480-983-3200.