5 Golf Tips and Drills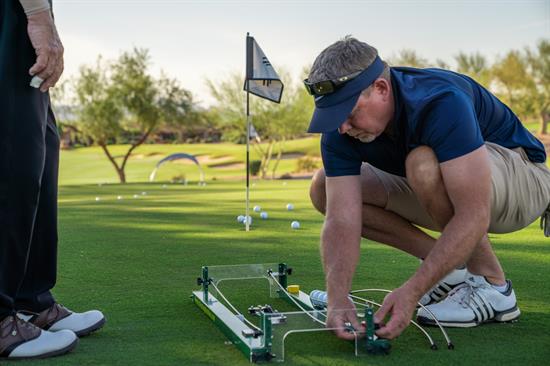 The expert team of golf instructors at Superstition Mountain Golf and Country Club bring decades of experience and a deep, lifelong passion for the game to the members of our private golf course community. Together, they've rounded up a few tips to improve your golf game.
1. Putting Practice Drills
Your short game can make or break a round, so try these 5 extremely effective putting drills to dial in your game. Exercises include honing your depth perception, managing distance and mastering an even, consistent swing.
2. Gate Crasher Putting Drill
And another putting drill … because you drive for show but putt for dough. This fun drill will help improve the accuracy of your short game. Find a flat and straight putt of eight to 10 feet, then place two ball markers about halfway between your ball and the hole. Set them just wide enough apart that a ball could roll between them. Your goal for this drill is very straight forward (pun intended): hit putts that not only roll between the markers or "gates" but also go in the hole. This drill is a great way to warm up your putting game and help sharpen your accuracy.
3. Chipping Tip – Body Rotation
Chipping, another part of your short game, is a critical skill for scoring. It is very similar to putting and it is where you begin to trust that the clubface will get the ball into the air. In this drill you practice letting your body rotate on chip shots. When you practice, think of the right knee as a trigger for the downswing. Swing the club head back, then kick your right knee toward your left knee. This will unlock your right side and get your whole body rotating forward.
4. Driving Distance Drill
While your short game is important, you cannot neglect your long game. For distance control, approach your tee and try hitting balls with your driver only to the 100-yard flag or marker, then 125-yards, then 150, then 175, gradually moving to a normal distance for your driver. This will help you better understand driving distances and begin mastering your and placement for any par hole.
5. Iron Play – Mastering Your Body Movement
To get the most power out of irons, use your whole body to make contact with the ball and finish the swing. Using the power of your whole-body rotation will increase your distance, regardless of which iron you use. Another common mistake is not taking a full backswing with iron shots. Limiting your swing can cause golfers to hit too steeply into the ball. When using longer irons it's important to use a sweeping, shallow motion to make contact with the ball and create less of a divot.
Our private gated community is home to two Nicklaus-designed golf courses that make for some of the best golf in Arizona. Both courses are extremely playable and for golfers of all levels and offer beautiful mountain views. To learn more about the various golf instruction options available to members or to book a lesson with one of the Superstition golf instructors, contact our Golf Shop Today 480-983-1411.