5 Reasons to Love Arizona
February 14 is, of course, Valentine's Day. It's also the day (in 1912) Arizona was admitted as the 48th state in the union. So, in celebration of our great state's birthday, we've rounded up the top five reasons we fall in love with Arizona every day.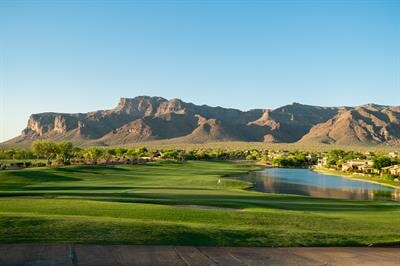 1. Year-Round Golf

With roughly 300 days of sunshine, Phoenix-area golf courses stay open year-round. While our friends in the Midwest and on East Coast are digging out of winter storms, temperatures at Superstition Mountain Golf and Country Club rarely drop below freezing during the day … and certainly don't stay there. Even in the middle of the summer, members are happily teeing off every morning. Afterall, you don't have to shovel sunshine.

That lovely weather also makes it possible to enjoy a wide variety of outdoor activities. Our members are particularly found of hiking, pickleball and alfresco dining throughout the year.

Read more about why Arizona is the prime location for golfers: /4-reasons-why-arizona-golf-courses-are-ideal-for-golfers-354c779.html

2. All That Variety

The Valley of the Sun boasts beautiful Sonoran Desert landscapes and a variety of succulents, including the majestic Saguaro cacti, and other drought-resistant plant life. Think Palo Verde trees, Mesquite and Creosote Bush.

Fun fact: Creosote is largely responsible for that wonderful desert rain smell. Natural oils in the plant's leaves are activated and released when wet.

When people think of Arizona, they often only imagine this desert scenery, but there's so much more to the Grand Canyon State than sun and cactus.

A trip to Northern Arizona brings vastly different surroundings and weather, with cooler summers and snowy winters. The northern areas of the state are populated with ponderosa pines with fir, spruce and aspen forests at the highest elevations. Oak trees and grasslands can be found in moderate elevations along the way.

3. Location, Location, Location

Members of our private golf club, and residents of the greater Phoenix area, are fortunate to have a wealth of options when looking for a quick weekend getaway. From Prescott and Sedona to Tucson, Lake Havasu and Jerome, Arizona is home to a variety of great cities and little towns that are perfect additions to your local vacation bucket list.

If a bit of a longer road trip is on your agenda, San Diego beaches and Temecula wineries are only six hours away.



4. Things To Do
With an abundance of festivals and annual events there's a little something for everyone in Arizona.

Sports fans can hit up Chase Field, State Farm Stadium and the Footprint Center to catch a professional baseball, football or basketball game. The Valley of the Sun is also home to Spring Training and the "Greatest Show on Grass" – the Waste Management Open.

Those looking to add a little art and culture to their lives can enjoy a performance at Symphony Hall in Downtown Phoenix, browse the art galleries in Old Town Scottsdale or take in a Broadway show at Grady Gammage Memorial Auditorium in Tempe.

Other notable annual events include Barrett-Jackson, Las Noches de Las Luminaries at the Desert Botanical Garden, the Scottsdale Arabian Horse Show and The World's Oldest Rodeo.

Discover more local attractions in our blog library: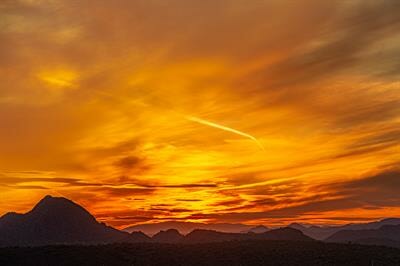 5. Sunsets
It's no secret that Arizona is known for stunning sunsets. The vivid orange, red, pink and purple hues paint the sky night after night thanks, in part, to the dry weather conditions. Moisture in the air can distort light particles – making sunsets in more humid climates less dramatic. The Superstition Mountains are an especially magical canvas for both sunsets and sunrises.

Interested in enjoying all there is to love about Arizona by making Superstition Mountain Golf and Country Club your home? Click here to learn more about real estate options in our guard-gated golf community.