5 Ways to Pair Drinks with Food in Arizona Winter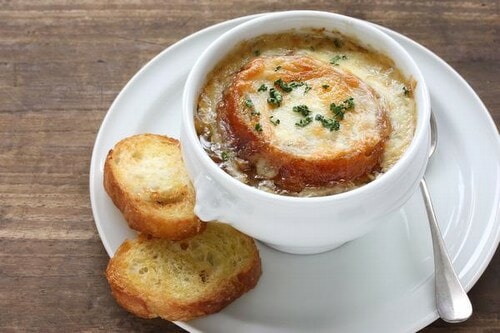 Although we don't experience harsh winters here in Arizona, it's always nice to opt for hearty meals and hot beverages during the chillier days of the year. Here are some tasty food and beverage pairings to try out this winter season.
1. French Onion Soup & Brown Ale: Warm up with a hearty soup paired with a refreshing brown ale. The melted cheese is the perfect complement to brown ale's nutty taste. When choosing your brown ale, it's recommended to select one that offers more of a malt than hop flavor to ensure the soup won't taste too bitter. If you aren't sure which brown ale to choose, check out Northern Brewer's brown ale style guide.
2. Beignets & Coffee: There's nothing better than a warm beignet and hot cup of coffee on a cool winter morning. If you've never heard of the French doughnut, a beignet is a deep-fried sweet treat, great for a morning pick me up or even as an after-dinner dessert. Pair the delicious pastry with coffee and you have the ideal combination. If you're feeling adventurous and want to make your own, try out this easy homemade beignet recipe.
3. Mac and Cheese & Chardonnay: Enjoy a bowl of old-fashioned macaroni and cheese with a glass of chardonnay. The ultimate comfort food, mac and cheese pairs well with a variety of wines, but chardonnay stands out among them all. The light and crisp white wine pairs wonderfully with the creaminess of the cheese and pasta. For a little something extra, Wine & Dime suggests adding a pinch of cayenne pepper to the dish to add a hint of spice.
4. Roasted Nuts & White Peony Tea: Next time you're looking for an afternoon snack, consider trying roasted nuts with white peony tea. The salty nut flavor combined with the floral tea make for a creamy taste sensation. Dominion Tea recommends trying pistachios, cashews or almonds to get the best flavor profile.
5. Meatloaf & Merlot: Cook up a classic meatloaf and enjoy with a glass of merlot this season. Meatloaf tends to have a drier, more mild taste, so a Merlot with a bit of spiciness will get those taste buds going and bring out all the meatloaf flavor. Try the Tennessee Meatloaf recipe with beef, pork and veal, all of which are known as the "Merlot-loving" meats.
If you'd like a break from the kitchen, head over to Superstition Mountain's Clubhouse Dining Room and enjoy our wide selection of seasonal dishes. As one of the top private golf clubs in Phoenix, our culinary team has plenty of delicious cuisine options that are sure to satisfy your cravings.