6 Unique Thanksgiving Recipes Sure to Impress Your Guests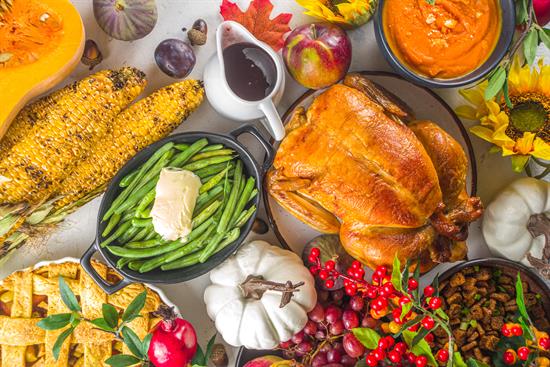 If you are hosting the Thanksgiving meal this year and are tired of the traditional turkey, mashed potatoes, green beans and stuffing, look no further. From savory sweet corn spoonbread to tasty apple pie salsa, we've cultivated a list of six unique, easy-to-make recipes that will both impress your guests and satisfy your annual Thanksgiving cravings.

1.

Turkey Sliders with Stuffing Biscuits
Why wait to create the ultimate Thanksgiving leftovers sandwich until after the holiday? Give your guests a small taste of what is to come with these easy-to-make turkey sliders topped with your favorite seasonal classics. The simple recipe takes less than one hour to prepare and combines turkey, cranberry sauce and stuffing all into one delicious appetizer. The stuffing biscuits are sure to be a hit and will leave your guests in awe of your creative cooking skills.

2. Baked Apples with Sausage Stuffing
Savory side dishes can easily elevate your meal to new heights and turn a traditional feast into an unforgettable dining experience. A fun twist on classic stuffing, this baked apple sausage stuffing is a great way to add a personal touch to your meal. Instead of a traditional bowl, serve your stuffing inside a delectable baked apple. Simply carve out your apples, scoop the sausage stuffing inside and bake in the oven for 30 minutes. Your stuffing will come out of the oven in a warm "apple bowl", giving each guest their own individual treat.

3. Greek Stuffed Acorn Squash
Looking for a vegetarian option for the Thanksgiving table? Serve this healthy and delicious Greek stuffed acorn squash as an alternative to the traditional turkey. Made from a mixture of dynamic Greek flavors and ingredients including cooked red quinoa, white beans, minced garlic gloves, red onions, spinach, acorn squash, feta cheese, sliced kalamata olives, chopped onions and topped with panko bread crumbs, this autumn-inspired Greek stuffed acorn squash will quickly become a beloved table tradition.

4. Sweet Corn Spoonbread
Serve this sweet corn spoonbread at your next Thanksgiving meal and you're sure to become the host of the year. Combine corn muffin mix, cream style corn, your choice of frozen, canned or roasted corn kernels, sour cream, yogurt, butter, eggs, sugar and salt in a large bowl, pour into a skillet and place in the oven. After a quick 25 minutes, you will have a buttery sweet corn side dish that will truly melt in your mouth.

5. Green Bean Casserole with Onion Rings
What better way to spice up your traditional green bean casserole than with homemade onion rings? A fun take on a staple holiday side, this green bean casserole recipe tops the dish with a heaping portion of homemade fried onion rings. The best part? The delicious dish takes under one hour to prepare and serves approximately six to eight guests.

6. Apple Pie Salsa and Cinnamon Sugar Chips
If you're looking for a mouthful of fall flavor, this apple pie salsa and cinnamon sugar chips recipe is guaranteed to satisfy your cravings. The recipe takes a creative spin on the popular Thanksgiving dessert apple pie, making it more fun to eat than ever before. First, cook up some sliced apples on the stovetop similar to as you would when making apple pie filling. Then, create your cinnamon sugar chips by spreading an easy-to-make cinnamon sugar and melted butter mixture onto a few flour tortillas and baking for 15 minutes. You will have created a gooey apple pie salsa in no time and introduce your guests to a fun dessert, while still giving them the traditional taste of warm apple pie.

For a special touch, add a dollop of whipped cream or a scoop of your favorite vanilla ice cream to create the ultimate fall dessert.

If you're seeking a break from the kitchen after all of this cooking, visit Superstition Mountain Golf and Country Club's dining room for a relaxing meal handcrafted by our chefs. Members and their guests are welcome to come grab a bite to eat, enjoy a cocktail and experience the stunning views surrounding our private golf course community.