7 Ways to Glamify Your Living Room
Whether you have just moved to Superstition Golf and Country Club, one of the best golf communities in Arizona, or have decided to give your living room a revamp, we are happy to share seven ways to help glamify your living room. From small adjustments to larger projects, follow along as we show you how to inject some new life into a room.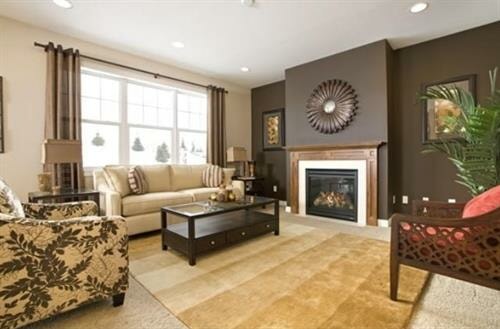 1. The Power of Paint
A great way to spice up your living room and make a bold statement is with a gallon or two of paint and some brushes. Select a color for a new theme or one that matches your current living room, select a wall and get to painting. Even a single accent well can add a lot of character to your living room. A solid color is a great place to start, or if you're feeling extra creative, consider adding stripes or other designs to your accent wall. You will be surprised how quickly your living room will come to life with a few minor changes. As a starting point, head on over to this Pinterest board for designs, colors and more.

2. Bring New Life to Your Windows
Update your windows with something new to wear. Quick changes like new drapes or a larger project such as adding shutters, can yield dramatic results. These adjustments can change the look and feel of a room, as well as affect how much light comes into your home. Check out this Pinterest board for inspiration.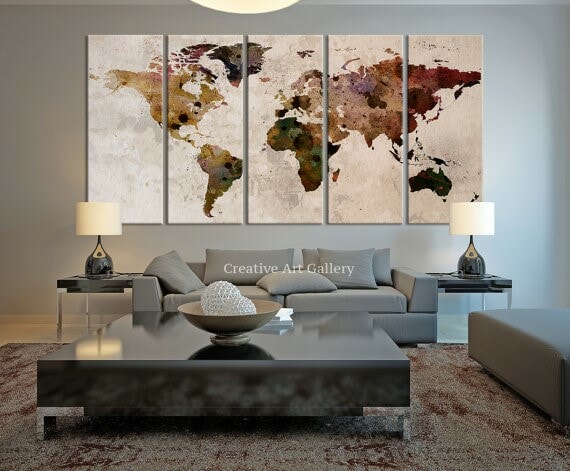 3. Express Yourself with Large Art
Nothing glamifies your living room like décor. Consider updating some of the artwork you have in your living room for a more modern look. Instead of common sizes, don't be afraid to push the dimension limits with pieces of art that take up large portions of the wall, or try grouping numerous photos/canvases to make one grand piece.

4. Revamp your Rug
Similar to how accent paint can update your living room walls, the same goes for how a stylish rug can add a pop of character to your floor. A well selected area rug charm and personality to a room while connecting all of your décor, furniture and other elements of the theme together. Have some fun and play with colors, patterns, textures, sizes and styles.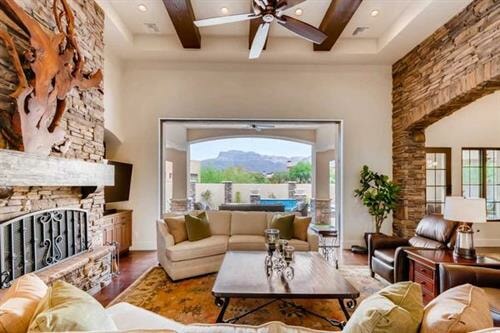 5. Go All Natural with Textures
If you step one foot into our 50,000 sq ft Tuscan-inspired clubhouse, you'll immediately notice the elegant touches of natural elements like stone and wood. These elements create a theme into your living room facelift to add a rustic and organic note to your home.

6. Let There Be Light
Adjusting your window treatments is only half the battle for revitalizing your living room through lighting. What about when the sun goes down? You can make a dramatic impact on your living room vibe by giving your lighting sources some attention. For bright, vibrant white light, try adding daylight light bulbs to your current fixtures. However, if you're looking for a warmer, cozy feel, we suggest soft white bulbs for the fixtures. Don't be afraid to change up the current location of your lamps, or adding new fixtures. For extra flair, consider adding "smart bulbs" like LIFX or Philips Hue. These new bulbs allow you the ability to change the bulbs' color and brightness via an app on a smart phone or tablet, giving you the power to set the mood for any occasion.

7. Flower Power
Bring new life into your living room with the addition of fresh flowers or plants. Looking for low maintenance and sturdy greens? Try succulent terrariums or other plants that don't require much effort.

As you can see, there are a lot of options when it comes to bringing renewed style into your living room. Start with changing one element and before you know it, you'll have an entirely new home space to fall in love with.
Once you finish your living room check out these tips for remodeling your master bath 4 Bathroom Remodel Ideas for a Luxurious Look.