8 Hiking Tips & Backpack Essentials in Phoenix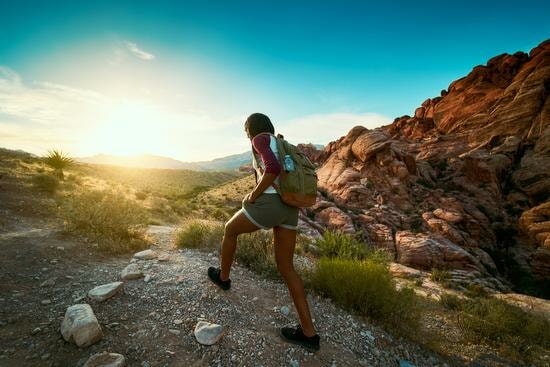 The Superstition Mountains are a beautiful backdrop to our private golf courses in Arizona and voted one of the most beautiful hikes in the world by Architectural Digest. With access to hundreds of miles of trails around and throughout the unique mountain range, many Arizonans enjoy the local desert scenery. Before heading out on your next hike through the Superstitions, review these essentials for a day on the trials.
1. Dress appropriately
Wear light, breathable clothing for a day outdoors. The right clothing is an easy way to stay comfortable and protected from the elements. Don't forget to bring a hat, sunglasses and apply sunscreen, 30 SPF or higher, on exposed areas.
2. Hydrate before, during and after
Arizona temperatures are no joke. It's important to stay hydrated throughout your hike. An easy way to avoid dehydration is to drink a bottle of water or two beforehand, bringing plenty of fluids in your pack and follow up with more water post-hike.
3. Pack snacks
Avoid hunger pains on the trails with satisfying and high-energy snacks such as nuts, sandwiches, fruit and granola bars.
4. Bring a camera
Superstition Mountain has a wide variety of native plant and wildlife. Bring a lightweight camera to capture photos of the desert wilderness.
5. Navigation
Download or bring a trail map and a compass for consistent navigation when exploring any trail.
6. Illumination
For early morning or late-night hikes, a small flashlight or headlamp is a must. Superstition is also home to several dark caves where a flashlight will come in handy!
7. First-aid supplies
Simple first-aid essentials such a Band-Aids, alcohol wipes, ibuprofen and tweezers can help prevent a small injury or issue from getting worse.
8. Multi-tool
Often featuring scissors, knife, screwdriver and other utensils, multi-tools are a compact means of preparing for any need.
With more than 140 miles of well-developed trails, and more than 100 miles of unmarked trails, the Superstition Mountain's are a hiker's dream. For more information on the history and legends of the Superstition Mountains, visit the Superstition Mountain Museum.