A New Way to Experience Private Golf Club Dining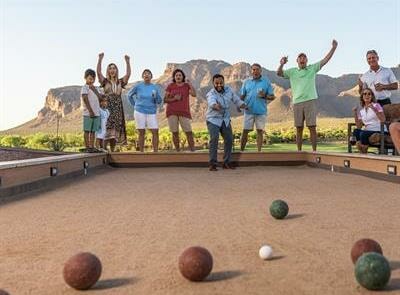 The evolution of private golf clubs has been a much-discussed topic in, and outside, of our industry. As we review trends and statistics on a national level and inside our own club, one thing has become increasing clear – to excel, private clubs can no longer simply rely on providing an exceptional golf experience. We must provide an exceptional lifestyle. A lifestyle, as we like to say, vacations aspire to.
One of the areas we have been especially focused on in the past few years is our food and beverage offerings. Unlike many clubs, our memberships do not include a F&B minimum. In the spirit of growth and change, we've discovered that fine dining alone isn't enough anymore. Casual dining and special events are becoming more and more popular.
Culinary Club
In an effort to better serve members, in 2017 Superstition Mountain created an exclusive Culinary Club program. Through the optional program, members pay a modest annual fee and then receive a 50 percent discount on all regular purchases at the restaurant and bar – not including beverages. Being mindful of full-time and part-time (second home) members, both year-long and six-month Culinary Club memberships are available. Separate discounts are applied to special functions but are not offered in conjunction with golf event dining.
Special Events*
Over the past few years, we've incorporated several special events into our food and beverage program outside of formal dinner services.
Monthly food truck events tap into current trends and bring local vendors into our community. Keeping to the level of luxury expected from our members, we set up covered tables and a full outdoor bar for an interesting, but elegant, al fresco dining experience.
More Casual Dining Experiences
There is certainly a time and place for fine dining and elegant wine dinners, and Superstition offers plenty of opportunities for such, but we put equal attention into our casual dining offerings.
Insider Tip: carry out pizza specials have become a member favorite.
We've also relaxed our dress code to allow denim in the main dining room at all times. This removes any barrier for members who have dressed more casually – perhaps for our booming Bocce league – or prefer a more relaxed environment to comfortably enjoy dinner at the club.
Many private golf clubs are steeped in tradition, linen tablecloths and formal dining programs…and so are we, but at Superstition we also believe in progress. Listening and adjusting – within reason – to the wants and needs of our current and future members has proven to be a recipe for success.
Want to learn more about joining us? Check out our membership page for details on various membership opportunities.
*Special events and dining offerings may be subject to change, especially as we adhere to COVID-19 restrictions.