Upcoming Golf Events in Arizona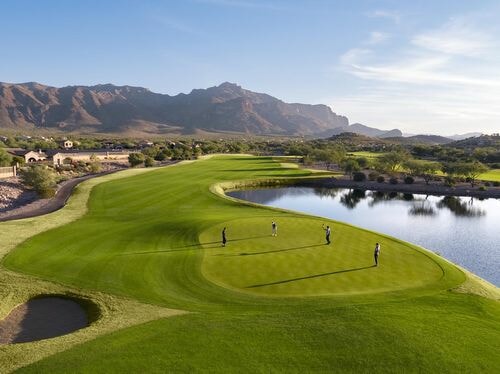 The golf season is picking up as Arizona is hosting numerous tournaments across the Valley and with fall around the corner, the Arizona Golf Association (ACA) has many exciting golf events planned. At Superstition Mountain Golf and Country Club, we just finished hosting the Southwest PGA Professional Championship and are proud to announce our very own Matt Brooks and Milo Lines are qualified for the PGA Professional Championship later this year. We look forward to watching the fierce competition across the Valley and continue an amazing season at our luxury golf club.
2018 Senior Cup Series: Arizona is home to two qualifying events for the 2018 Senior Cup. The two-person, four-ball stroke play (best ball of partners) competitions will be hosted at the Firerock Country Club on August 20 and the Phoenix Country Club on August 27 – with both tournaments starting at 9 a.m. Competitors earn points all season long which with the top 80 players earning an invitation to the season-ending championship.
Quail Cup Invitational: Returning for its 23rd year, the annual Quail Cup Invitation takes place September 26-28 at the Desert Forest Golf Club. The field of 50 teams will compete in 36-hole better ball format with a shotgun start. Starting in the 1980s, the Quail Cup is one of the longest-running tournaments in Arizona and features top amateurs in the state.
2018 USGA Mid Am Qualifier: The Arizona qualifier for the USGA Mid-Amateur Championship in Charlotte will be held August 20 at the Moon Valley Country Club. This exciting event will pit some of Arizona's best golfers during this one-day tournament.
2018 USGA Senior Women's Amateur Qualifier: Top 50+ female golfers battle it out at The Estancia Club in Scottsdale September 4 to earn a spot to compete at the 2018 USAG Senior Women's Championship in Orchid, Florida this October.
There is plenty to look forward to this year as the golf season reaches full swing. Check out our calendar for other member events, on and off our two Nicklaus-designed golf courses. For more information about the AGA, additional events and member benefits, visit www.azgolf.org.