Celebrate Mom In Style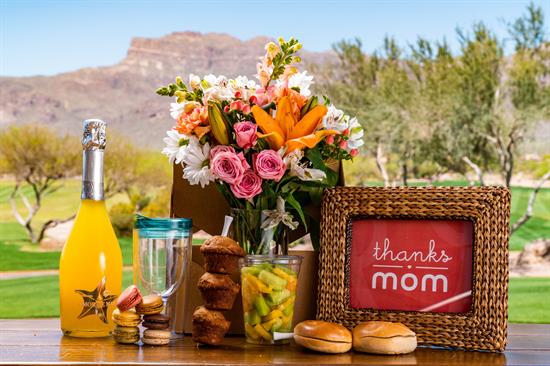 Mother's Day became an official American holiday in 1914 and has been celebrated as a day to recognize the strong women in our lives ever since. We've rounded up a few tips to help make sure you don't bogey Mother's Day this year.
Gifts
Golf-themed gifts aren't just for Dad. Lots of women (moms) out there love the sport and would be thrilled to get a unique golf gift this year. For a little inspiration, check out this golf-centric Mother's Day Gift Guide. We're sure mom would also love a tee time or some free time to hit the driving range.
Fun fact: According to History.com, more phone calls are made on Mother's Day than any other day of the year. These holiday chats with Mom often cause phone traffic to spike by as much as 37 percent.
Food & Bev
Mother's Day is synonymous with brunch. If you prefer to host at home, check out this list of brunch recipes from the hostess with the mostest, Martha Stewart. One of our favorites is the smoked salmon flatbread with pickled beets. Elevating the traditional bagel and lox, this recipe uses premade pizza dough and swaps the cream cheese for Borusin.
Find the full recipe and more great brunch options on marthastewart.com.
Mimosa Bar
A self-serve mimosa bar is a fun way to enjoy this traditional brunch libation. In addition to orange, offer a variety of juices – think cranberry, peach and even pink lemonade – with fun fruit garnishes. Pour the juices into glass bottles or pretty pitchers with chalkboard labels for an elegant touch.
Go extra glam and add a pinch of cocktail glitter to each glass.
Looking for something a little easier than prepping a full brunch? Members at our private country club can order ahead to receive a fully stocked "Brunch Box." Filled with pre-made mimosas, muffins, fresh fruit, bagels & toppings, delectable macaroons, a fun re-usable wine cup and a bouquet of fresh flowers, this is a great way to whip up something special for the mother in your life.
Express Yourself
Once you've found the perfect Mother's Day card, it's time to craft your personal message. If you are someone who struggles to find the right words to express how you feel, the fine folks at Hallmark have got you covered. This Hallmark.com blog offers suggestions on what to write inside your card and has options appropriate for all the wonderful motherly figures in your life and all types of relationships.
Examples range from funny messages to mom: This Mother's Day, I'd like to propose a deal—I'll promise to visit more often if you'll promise to stop referring to the dog as my brother. Agreed?
To heartfelt sentiments for your wife/partner: I'm so grateful to be sharing life, love and parenthood with someone as amazing as you.
You can thank us later.
Show us how you are celebrating the incredible women in your life this Mother's Day. Tag us in your photos on social: @superstitionMountainGolf on Facebook or @superstitionmountaincc on Instagram.