COVID-19 Brings Lasting Change To Club Offerings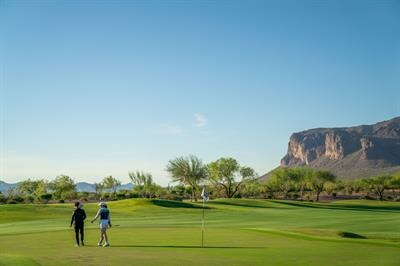 This year has brought a lot of change and, like the rest of the world, we've had to overhaul processes and find ways to continue to serve members while staying safe and within various COIVD-19 restrictions. At Superstition Mountain Golf and Country Club, we pride ourselves on providing our private golf club members with a certain lifestyle. One that, in addition to golf, includes great dining, lively social events, a robust fitness program and top-tier service. So, what do you do when events are canceled and amenities are closed due to a global pandemic? You find new ways to move forward.
We were fortunate enough to be in a state where we did not have to close our two Nicklaus designed golf courses. We implemented quite a few new guidelines to ensure proper social distancing and sanitation, but play continued.
Closing our clubhouse facilities and stopping all events is what had the largest impact on our membership and staff. That's when the team stepped up and found new, innovative ways to serve members and maintain our luxury, Arizona private golf club experience.
Dining
Our incredibly talented Chef Michael O'Dowd (MOD) began offering daily specials for pickup and delivery. By limiting the menu we were able to better manage F&B costs and keep club dining fresh and interesting for members. Wine, beer and cocktail kits are also available for delivery. During the height of the pandemic we put together full meal kits for those who preferred to prepare food in their own home.
We've begun offering what we lovingly call MOD Market. Each week we send out a list of grocery items that will be available and members can place orders for pickup. Everything from lobster meat and fresh produce to face masks and disinfectant spray. These types of services were especially appreciated when we were able to keep toilet paper on the list when many local stores faced an extreme shortage.
Events
During this time, the lack of socialization has perhaps been the most difficult for many people. We crave human connection and our members are certainly used to a full social calendar. To supplement in-person events and gatherings, we began hosting weekly virtual member mixers. Streamed live on Facebook, members could tune in from anywhere in the world to watch our team and weekly special guests share a few drinks and talk golf, club news and world happenings. Members are able to ask questions during the live stream and connect with their friends and Superstition family in the chat.
We've had mixology lessons from our bar manager, discussed playing competitive golf with our talented LPGA members, gotten fitness tips from the Sports Club team and talked shop with our Director of Agronomy. It's informative and fun with lively conversation, plenty of laughs … and a few cocktails.
In addition to the mixers, we began streaming live music performances, comedy shows and rounds of bingo. Whenever possible, we strove to bring the same entertainment typically scheduled for the club to the members on a virtual platform. We've even done virtual wine tastings with members able to pick up the wine selections ahead of time and follow along at home.
While nothing can take the place of in-person experiences, the virtual events allow members to stay engaged with the club and their fellow members. It also went a long way to ward off quarantine boredom.
Fitness and Wellness
The closure of gyms across the country naturally extended to our Sports Club and the team pivoted quickly to stream classes online. They'll even go the extra step and help members set up their Zoom accounts if they are having trouble logging in.
Our fitness experts have also developed a virtual fitness library of recorded classes that can be accessed from anywhere at any time. Whether it's getting in a quick Zumba class, continuing work on mobility training or enjoying a Yoga session, members can take classes from the club's fitness experts at their convenience and from the safety of their own homes.
Extending wellness services, our massage therapist is offering in-home appointments. So, after a tough virtual workout, members can relax with a professional massage.
Benefits
Perhaps the most surprising outcome of these changes is this … most of them will stay, even after COVID-19 restrictions are lifted. Aside from allowing us to continue operations during a global pandemic, these measures have given us a new way to connect with our members.
Because that is what being a member of a modern private golf club is all about. It's about being a part of a community that takes care of each other. And in this case, it also meant allowing our members to stay in the relative safety of their own neighborhood while the club provided the basic necessities.
As a club, we have always tried to be open to growth, and change as the needs of our membership shift. Even during a pandemic, we are continuing to learn more about how we can better serve our Superstition Mountain family. Now, and during whatever the next season may bring.