Easy Kentucky Derby Party Recipes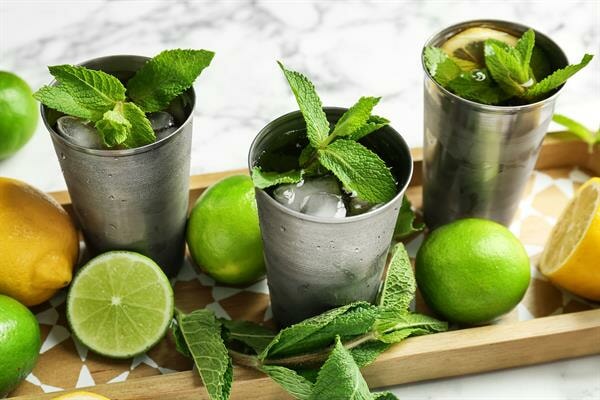 The 147th running of the Kentucky Derby will be held this year on May 1, 2021. Dubbed, "The Most Exciting Two Minutes in Sports," the famed horse race is the first leg of the Triple Crown – followed by the Preakness Stakes (5/15) & Belmont Stakes (6/5). Just thinking of the Derby conjures up images of high-class festivities, extravagant hats and Mint Juleps. Even if you can't make it to Churchill Downs this year, you can keep the traditions alive by hosting your own Derby Party. Whip up some cocktails, plan a decadent menu and be sure to dress the part. To help get you off the races, our food and beverage team Chef Josh & Mike Tipton have put together some Triple Crown worthy recipes you can make at home.

Classic Mint Julep
2 oz. Bourbon
5 mint leaves
1 1/2 oz simple syrup
Garnish with mint sprig

Derby Spring Pea Risotto
1 pint Shucked English Peas
¼ cup Olive Oil
1 cup Onion (small diced)
1 pint Carnaroli Rice
1 each Bay Leaf
½ cup Chardonnay
1 ½ quarts Chicken Stock
¼ pound Butter (cubed)
¼ cup Mascarpone Cheese
¼ cup Parmesan Cheese (grated)
Salt and Pepper to Taste

Blanch the English peas in boiling salted water for approximately 2 to 3 minutes until bright green and still slightly crunchy. Plunge the peas into ice water to stop the cooking process. Remove the peas from the ice water and reserve half. Place to remaining peas in a sauce pot with 1 cup of the blanching water and place over medium heat for approximately five minutes or until soft but still bright green. Place the mixture in a blender and puree until smooth. Reserve the puree for the risotto. Add the olive oil to a hot skillet. Add the onion and cook until translucent. Add the rice and bay leaf and continue to stir until the rice is hot and just starts to take on a tiny bit of color. Deglaze the pan with the Chardonnay and allow to reduce until very little liquid is left. Add 1 cup of chicken stock and a little salt and pepper while continually stirring. As the liquid slowly absorbs into the rice continue to repeat the process. Once the rice has absorbed enough liquid to the desired texture reduce the heat to a simmer. Add the blanched peas and the pea puree. Add the butter and stir to incorporate. Add the Mascarpone cheese and continue. Add the Parmesan cheese and continue. Season the risotto with salt and pepper to taste. Remember, you can always allow the risotto to rest which will cause it to get thicker. If you want to add more stock or blanching water to adjust the thickness to make it thinner feel free to do so.

Belmont Bourbon Blueberry BBQ Sauce
½ cup bourbon
3 cup frozen wild blueberries
1 cup balsamic vinegar
1 cup cooked diced bacon
3 T sugar
3 T ketchup
1 T Worcestershire sauce
2 EA garlic clove, minced

Place everything in pot and bring to boil. Blend in blender until smooth.



Preakness Cocktail
1 1/2 ounces American rye whiskey
3/4 ounce sweet vermouth
1/4 ounce Bénédictine
1 dash Angostura bitters
Garnish: lemon twist

Preakness Crab & Artichoke Dip
1 lB cream cheese
2 c mozzarella cheese
1 c mayo
1 c heavy cream
1 T Dijon
1 T Montreal steaks seasoning
1 C drained artichoke hearts
1 C Jumbo Lump Crab

Add cream cheese, mozz cheese, mayo in to mixer and whip on low speed until incorporated
Add heavy cream, Dijon, steak seasoning
Add crab and artichokes
Heat over double boiler until hot (or use microwave for smaller batches)

Belmont Jewel
1 1/2 oz. Bourbon
1 oz. Pomegranate Liquor
3 oz. Lemonade
Garnish w/ lemon twist

If DIY isn't your thing, head over to the clubhouse for a bite to eat or takeout from the Restaurant. From elegant fare to a relaxed bite to eat, Superstition Mountain Golf & Country Club offers a diverse range of cuisine options sure to please everyone's palate.