Fresh Recipes from Superstition Mountain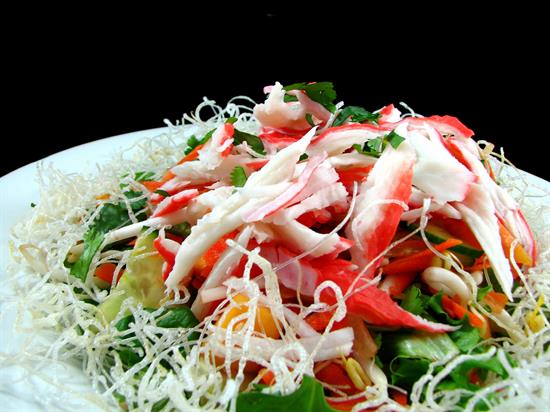 While much of the country starts dreaming of fall and pumpkin spice everything by early September, those of us in the Valley of the Sun know that warm temps can stick around through October. With that in mind, our chefs at Superstition Mountain Golf and Country Club have shared a few fresh recipes, suitable for the home cook, perfect for any time of the year.

Seafood Campechana
This cool, refreshing dish is easy to whip up and the spice level can be adjusted for any pallet.

Ingredients:

6 oz crab claw meat

1 lb shrimp - peeled, poached and rough chopped

1 avocado - diced

1/2 bunch cilantro - stemmed and chopped

1 ½ cup Roma tomatoes - diced

24 oz V8 juice

1/3 cucumber - seeds removed and diced

2 oz lime juice

1 Tbl Cholula

½ tsp kosher salt
Directions:
Mix all ingredients together except the crab. Taste and adjust seasoning if necessary. Gently fold in the crab meat. Chill and then serve cold with tortilla chips.
Tomato Cucumber Salad
A classic, this easy side salad can be personalized in a number of ways. Add fresh herbs and substitute different kinds of vinegar or vegetables to make it uniquely yours.
Ingredients:
1 cup cherry tomato - cut in half

1/3 English cucumber - seeded and sliced

1/4 red onion - sliced thin

2 oz salad oil

1 oz balsamic vinegar

1/2 Tbl fresh squeezed lemon juice

1/2 tsp honey

1/2 Tbl Italian spice blend

1/2 Tbl Fresh garlic - minced

1/2 tsp Kosher salt
Directions:
Gently mix tomatoes, onions and cucumbers together. In a separate bowl,
whisk together remaining ingredients. Add tomato mixture and toss to evenly coat the vegetables. Refrigerate and serve chilled.

Cardamom Pecans
A sweet and tasty snack, Cardamom pecans are great alone or used as a topping on a chilled lettuce salad or ice cream.

Ingredients:

1 bag (2 lbs) pecan halves

½ cup butter

2 cups granulated sugar

½ cup water

½ tsp Kosher salt

1 tsp ground cinnamon

1 tsp ground cardamom
Directions:
Preheat oven to 350 degrees. In a rondeau* melt the butter then add the spices and water.
Cook, stirring frequently until the sugar has dissolved. Add the pecans and stir until well-coated. Pour onto a buttered baking pan and bake at 350 for 10 minutes. Remove from oven and
carefully pour out evenly onto a wire cooling rack (that's been placed on top of a lined pan). Let cool to room temperature, break apart any nuts that are stuck together.
* Spruce Eats defines a rondeau as a wide, somewhat shallow pan that is similar to a stock pot or a Dutch oven but not nearly as deep. The pan has straight sides, usually has two loop handles, and nearly always comes with a lid.

Teriyaki Glaze
Teriyaki is a versatile sauce that is easy to make and has a long shelf life. Paint it on grilled fish, chicken, pork or vegetables.

Ingredients:

4 cups low sodium soy sauce

2 cups brown sugar

3 Tbl fresh garlic - chopped

4 Tbl fresh ginger - chopped

½ cup honey

2 Tbl sesame oil

1 ½ cup Mirin (or sweet white wine)

5 Tbl corn starch

2 cups water
Directions:
Mix the corn starch with water until well combined and set aside. In a saucepan, bring remaining ingredients to a boil. Drizzle corn starch mixture in slowly while continuously whisking. When desired consistency is reached, remove from heat and refrigerate.

Chimichurri
A fresh, herbaceous sauce, Chimichurri is most often used as a sauce for grilled red meat, but It's also an excellent marinade for chicken.

Ingredients:

2 bunches cilantro

2 bunches Italian parsley

2 Tbl fresh oregano

2 Tbl Fresh Thyme
Directions:
Place all of the ingredients, excluding the oil, in a container and process with an immersion blender. You can also use a food processor. Add the oil while continuing to blend being careful not to over blend - which will cause the sauce to lose brightness. Season to taste with salt and pepper.
Don't feel like working up a sweat in the kitchen? Leave it to the amazing culinary team at our Phoenix Private Golf Club and head over to the clubhouse for lunch or dinner. We'll even take care of the dishes when you're done.