Get The Most Out Of Your Golf Club Membership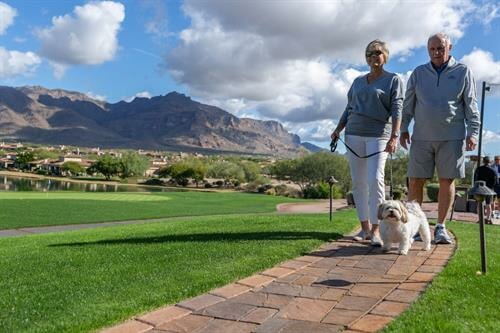 You've recently joined a private Golf Club, now what? What should you be doing next to maximize this experience and get the most out of your Membership? Members of private country clubs have so many opportunities to enjoy both golf and social events, here's how.
1. KNOW THE PRO'S
If you've joined a Club where you don't know many people, you'll want to get to know your Golf Shop team. This crew knows their stuff, not just about the clubs, apparel, and latest gadgets, but more importantly, they know the people. Once they get to know you and assess your level and style of play, they'll match you with other players of similar styles so the entire foursome can have a great time on either of our two beautiful courses!
2. BE READY TO PLAY
No one likes to wait on every shot, so don't be the one holding everyone up. As you're heading to your ball, think about the distance, club and shot you plan to take so when it's your turn you're ready to go. Following basic golf etiquette like marking your ball, and avoiding other's lines will make you an enjoyable companion and will help you settle in to the group.
3. STICK AROUND
It's called the 19th hole for a reason, and you should regularly plan to attend. This is where the fun continues, only without the pressure of playing a great round. Now it's time to relax and get to know the group you just played with. Buy a round, relax, and enjoy the comradery.
4. COMPETE
Once you've established a handicap, you'll be ready to sign up for Club Competitions and this is where things really heat up! Whether it's the Member-Member, Member-Guest, Stroke Play, or Match Play, Club Competitions allow you the opportunity to compete with and against other Members. You'll get to know the 'who's-who' of your Club and better yet, they'll get to know you!
5. WATCH THE CALENDAR
Both the Golf Calendar and Social Calendar will offer lots of opportunities to engage with other Members in all sorts of events. Stay in touch by reading your emails, follow the website, and ask other Members which events they plan to attend. Sign up, go and have fun!
Being an active Member at your Country Club is all about making connections; connecting with the staff means you'll be taken care of at every chance, and connecting with other Members will form lasting friendships and create great memories.
Looking to join a Club? Check out all that Superstition Mountain Golf and Country Club has to offer!