Dana Finkelstein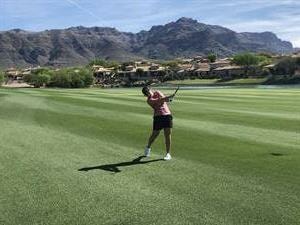 Born and raised in Chandler, Arizona Dana Finkelstein played high school golf at Corona del Sol. She attended the University of Nevada Las Vegas and graduated in 2015 with a degree in Kinesiology. During her time at UNLV she won 5 times, was a 2 time All-American, and in her senior year finished runner-up for the ANNIKA Award, which honors the player of the year in collegiate women's golf. After graduating, she turned professional and played a full season on the Symetra Tour in 2016. She recorded seven top 10 finishes including a victory at the Garden City Charity Classic which helped her to finish 7th on the Volvik Race for the Card Money list to earn LPGA membership for 2017. During her rookie year on the LPGA she finished #1 in driving accuracy. In 2018, she returned to the Symetra Tour and again received LPGA membership at the end of the season to gain full LPGA status for the 2019 season.
Career Highlights 2019

20 events, 12 cuts made, $114,081 (106)
Recorded a career-best T11 finish at both the ShopRite LPGA Classic and the Marathon Classic
Finished third on Tour in Driving Accuracy (82.90%)
Career Highlights 2018

Two runner-up finishes were part of six top-10 results in 2018 on the Symetra Tour
Had the best par-3 average (2.895) on the Symetra Tour and was third in driving accuracy at 85.2 percent in 2018
Finished tenth on the Symetra Tour Official Money List to earn membership for the 2019 LPGA Tour season
Dana and her journey in her own words:
I started playing golf when I was a young girl. My dad cut down some old golf clubs for me to use and he would take me to the driving range with him to hit golf balls. I was hooked ever since! I played other sports growing up including basketball, soccer, and softball, but there was something special about golf and that is what I decided to focus on. I played locally in tournaments with Girls Golf of Arizona and the Junior Golf Association of Arizona when I was developing as a junior golfer and then started playing some national tournaments when I was in high school. I was recruited by the University of Nevada, Las Vegas and decided to play college golf there. I had a great college experience, and with the help of my coaches, I was able to grow a great deal as a player. I realized that my game was good enough to play professionally and after graduating with a degree in kinesiology in 2015, I turned professional and decided to live my dream and play golf as a career. I made it through all three stages of LPGA Q-School and received Symetra Tour status for 2016. Over the last 5 years as a professional, I have spent 2 years on the Symetra Tour (2016&2018) and 3 years on the LPGA (2017, 2019 & 2020). My game has continued to improve every year and I am excited to continue my journey as a professional golfer. I have great memories of coming to Superstition Mountain Golf & Country Club as a young girl to watch the LPGA play and I am so grateful that I now get to call it my home. All of the members and staff are so welcoming and nice and I love being a Member!