Guide To The Best Spring Hiking Destinations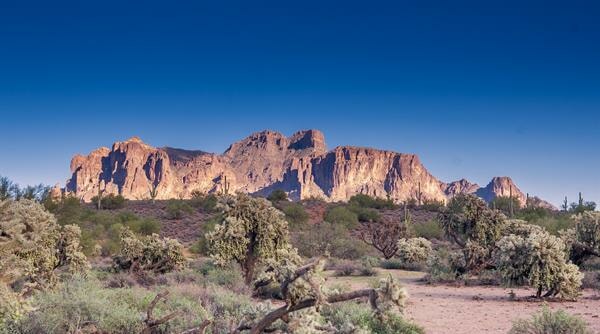 Here at Superstition Mountain Golf and Country Club, members have close access to a wide variety of regional parks and hiking trails fit for all skill levels. From scenic strolls like the iconic Wave Cave to rewarding adventures like the San Tan Trail, here are a few top hiking destinations perfect for exploring this spring.
Superstition Mountains
Surrounding our private golf course community, the Superstition Mountains offers an array of scenic hiking trails, unique land formations and hidden treasures unlike anywhere else in the Valley. The area's most popular route, the Peralta Trail, takes hikers approximately 1,300 feet up to Fremont Saddle – a smoother surface on the mountain ideal for relaxing and enjoying the trail's breathtaking views.
While the demanding 5.5-mile Siphon Draw Trail and 11-mile Battleship Mountain are fitting for more experienced hikers, the area has multiple trails great for those seeking a relaxing, daytime excursion. Treasure Loop is a 2.3-mile, heavily trafficked route perfect for all ability levels, and the popular 3-mile Wave Cave Trail features spectacular views and shaded areas ideal for catching your breath along the way.
Usery Mountain Regional Park
Immerse yourself in the beauty of the Sonoran Desert at Usery Mountain Regional Park. Located a short 20 miles from Superstition Mountain Golf and Country Club, the park features more than 29 miles of pristine hiking trails and a variety of wildlife species. One of the most popular routes, the Wind Cave Trail, allows visitors to venture through the area's caves and provides an easy path to the nearby Tonto National Forest. Merkle Trail is another highly trafficked beginner route, while Pass Mountain Trail attracts more experienced hikers with its longer length and steeper incline.

San Tan Mountain Regional Park
Located 30 miles from Superstition Mountain Golf and Country Club, San Tan Mountain Regional Park offers nine distinct trails ranging in length and difficulty. For those new to the hiking scene, the mild and relatively short Moonlight Trail features spectacular wildflowers in the spring, varying cacti and wildlife species. The more difficult, 5-mile San Tan Trail takes visitors through the Broken Lands and Central Valley portions of the park and finishes at the area's most accessible peak, the Goldmine Mountains. Many of the park's trails do cross paths, making it easy for hikers to explore a variety of routes during their visit. Mountain biking and horseback riding are allowed on a majority of the park's trails, so be sure to keep an eye out while traveling!

South Mountain Park and Preserve
One of the largest municipal parks in the country, South Mountain Park and Preserve features 51 miles of hiking, biking and horseback riding trails fit for all skill levels. The park's three mountain ranges, Ma Ha Tauk, Gila and Guadalupe, offers uninterrupted, panoramic views of the Valley and are home to more than 150 species of wildlife. Popular beginner trails include Beverly Canyon, Javelina Canyon and Telegraph Pass, while more moderate routes like the Mormon Trail and Desert Classic are better suited for experienced hikers. South Mountain is also home to the spectacular Dobbins Lookout, which features one of the best views of the Phoenix metro area. Beyond hiking trails, the park gives visitors a unique look into the past with its array of petroglyphs on many of the rock formations.
With scenic hiking trails, weekend getaway destinations and endless festivals, Arizona offers adventure around every corner. Check out our Blog Page to learn more about all the sunshine state has to offer.