Healthy Recipes for the New Year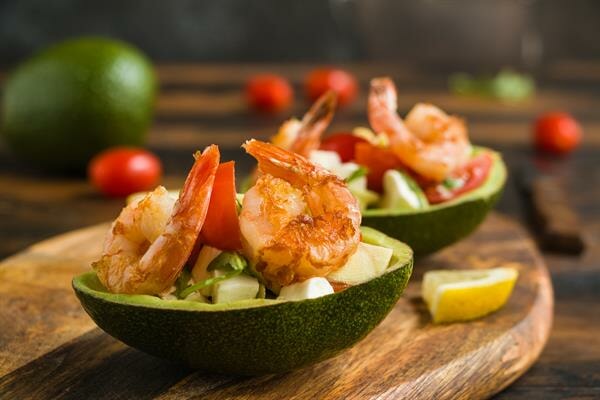 Looking to live healthier this year? Crush your goals with these sweet and savory recipes guaranteed to satisfy your cravings and your diet.

Greek Feta Dip
Conquer afternoon hunger with Greek feta dip. Combine feta cheese, Greek yogurt, cream cheese, olive oil and lemon juice and mix until fluffy. Sprinkle in salt, red pepper flakes and chopped dill. Top with sliced cucumber, halved tomatoes, a drizzle of olive oil and serve with pita chips. Bonus – this healthy dip is not only tasty, but also gluten-free!



Pea Pesto Pappardelle
A delicious dinner awaits with this five-ingredient pea pesto pappardelle. While the pasta is cooking, pulse one cup of fresh or frozen peas in a food processor. Add ricotta, lemon zest, salt and pepper, and continue to blend until smooth. Pour mixture onto cooked pasta, along with an additional half cup of peas and toss together. Top with chopped chives and serve for a fresh meal everyone is sure to enjoy.



Citrus Shrimp-Stuffed Avocados
Start your citrus shrimp-stuffed avocados by whisking chopped shallot, mayonnaise, sour cream, lime juice, orange juice and salt in a bowl. In a separate dish, toss cooked shrimp, tomatoes, chile, half of your dressing and refrigerate for 20 minutes. Cut avocados in half, scoop in the shrimp mixture and garnish with cilantro. Drizzle remaining dressing on top and bravocado! You've got a healthy and delicious treat.



Grilled Garden Veggie Pizza
A healthy, colorful and mouth-watering pizza in only 30 minutes? Sign us up! Slice red onions and peppers, zucchini and summer squash into ½-inch slices, drizzle olive oil on top and sprinkle salt and pepper. Grill until tender. Spread minced garlic, mozzarella cheese and veggies on whole wheat pizza crust. Grill pizza, covered, over medium heat until cheesy and golden brown. Top with basil and parmesan cheese. Create your own homemade crust for an extra touch or use gluten-free crust if desired.



Honey Garlic Glazed Salmon
The best salmon recipe, period. Begin your honey garlic glazed salmon by whisking together honey, soy sauce, lemon juice and red pepper flakes. In a large skillet, heat two tablespoons of olive oil and add salmon once hot. Cook for six minutes on each side, add garlic cloves, honey mixture and sliced lemons. Garnish with extra lemon slices and serve with grilled asparagus, herb roasted potatoes or honey balsamic glazed Brussel sprouts for a delectable meal.



Egg Roll Bowls
Addicted to egg rolls, but trying to cut down the calories? This low-carb egg roll bowl is your next go-to dinner recipe. In a large skillet, heat vegetable oil, garlic cloves and ginger and cook until fragrant. Add pork and cook until no longer pink. Push the meat to the side of your skillet and add sliced onions, carrots and cabbage, as well as soy sauce and siracha. Cook until cabbage is tender and serve with green onions and sesame seeds.



Skinny Pineapple Cheesecake Bars
Satisfy your sweet tooth with pineapple cheesecake bars. To create the crust, mix graham cracker crumbs and butter in a large bowl, press mixture into greased pan and bake for eight minutes. Create the filling by combining cream cheese, Greek yogurt, eggs, sugar, pineapple juice and vanilla extract and beating until smooth. Pour the filling onto the crust and bake for 30 minutes. Top with pineapple and enjoy!



If you're looking for a break from the kitchen, visit Superstition Mountain Golf and Country Club's dining room. The talented culinary team serves a variety of healthy options, that also pack a flavorful punch. Many of our dishes can also be modified to fit your dietary needs, just ask the staff!