Holiday Entertaining Survival Guide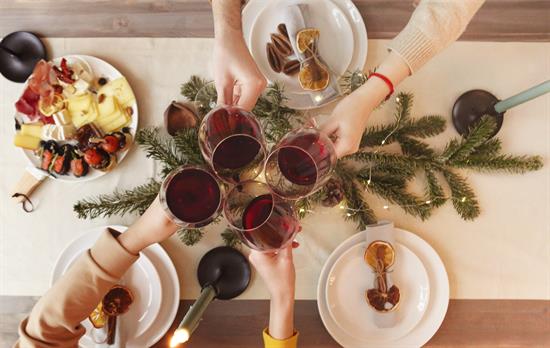 Whether you are celebrating Christmas, Hanukkah, Kwanzaa, Boxing Day, Festivus or simply cooler temperatures and a joyful time of year, holiday entertaining can become overwhelming. The team at Superstition Mountain Golf and Country Club has compiled a few quick tips for easy holiday hosting.
The Food
Unless you are taking on a full sit-down dinner, serving a variety of hors d'oeuvre is an excellent option for most holiday gatherings. Be sure to accommodate any food allergies your guests may have by including gluten-free, nut-free and non-dairy options.

Cucumber shrimp bites
are light, elegant and avoid many common dietary restrictions.
Another great recommendation combines sweet, tart cranberries with decadent Brie in pre-made puff pastry for a festively delicious holiday treat. Get the recipe here.
And, of course, you can never go wrong with the classic charcuterie.
Once you have the menu set, head over to Delish.com and mix up the perfect holiday cocktail. We're partial to the Apple Cider Old Fashion.
Pro Tip: arrange appetizers on serving platters of various shapes and sizes and add height for a more impressive visual impact.


Out of Town Guests
Many of our members have a second home out of state with friends and family potentially visiting for the holidays. Follow these recommendations to make guests feel welcome.

Guest room accouterments – in plain sight, be sure to put out fresh towels, an extra blanket and water bottles. You can also consider a small basket of toiletries and snacks.
Good to know – be sure to share the Wi-Fi password, alarm codes and other helpful household info … like where to find extra toilet paper and if there's space in the guest room for them to unpack.
Going the extra mile – if you really want to be the host/hostess with the mostess, consider stocking the pantry and refrigerator with a few of your guest's favorite foods and beverages. And a night light or two can help them navigate the unfamiliar space after dark.
When all the hustle and bustle has died down – or right in the middle of this busy, crazy season – take a break for some self-care. And, there's no better way to unwind than by taking full advantage of your private golf club membership. Schedule a relaxing massage, sweat it out at the Sports Club or enjoy a peaceful round on one of our two Nicklas-Designed golf courses. Then let the talented culinary team handle the cooking (and dishes!) and enjoy lunch or dinner at the club. Contact us to today to learn more about what Superstition has to offer.