How to Relax and Recharge During the Holidays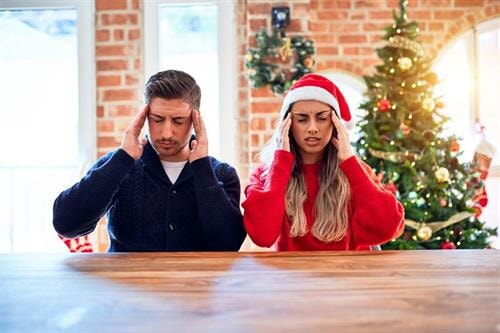 It's easy to get caught up in the stress that comes along with the holidays. Between buying gifts, baking cookies, decorating the house, attending events and preparing for guests, there is almost no time left in the day to take a deep breath and truly enjoy the most wonderful time of the year.
In an effort to control the chaos and keep the season merry and bright, we've round up a list of helpful tips to keep you relaxed and recharged during the holidays.
Exercise
Exercise reduces the body's stress hormones and stimulates the production of endorphins, which generates feelings of happiness and a sense of well-being. Although the holidays are meant to be the most joyous time of year, the season's associated stress can easily get in the way of all the fun. Schedule 30 minutes in your day to take a walk, jog or run around your neighborhood, go on a hike or attend a yoga class. All year long, Superstition Mountain Golf and Country Club members can utilize our fitness center and create their own wellness program with help from our certified staff. Visit our Fitness & Wellness page to learn more.
Ditch the Technology
Digital distractions can easily inhibit quality time with family and friends during the holidays. This season, ditch the technology and focus on spending time with your loved ones. Cultivating meaningful relationships and spending quality time with the people that matter most is proven to reduce key stress hormones. According to the University of Cambridge, spending time with your loved ones can actually extend your life and be a key predictor of life longevity.
Control the Comfort Food
'Tis the season for gatherings filled with festive food and endless temptations. It can be easy to indulge on all the holiday sweets when they're lurking around every corner, especially when you're stressed out. Eating a healthy diet can reduce the negative effects of stress and help maintain a solid foundation for your body, while also giving you the necessary energy to take on the day. Additionally, consider sipping a hot beverage such as chamomile, lavender or herbal tea before bed to help you relax and reduce unwanted stress and anxiety. The calming effects of hot tea will promote a better night's rest, which is much needed during the holidays.
Plan Ahead
Prepare for the season by planning ahead and creating a weekly, or daily, to-do list to keep yourself organized. Take an afternoon to write out your gift lists, recipes, travel plan, budget, holiday cards and events. Get our calendar and give each task a specific due date. Creating a holiday planner will allow you to stay ahead of the stress and ensure everything gets completed. And, make sure to schedule some time to relax. Carving out downtime on your calendar will keep you from overscheduling holiday commitments and make this season one to remember.
Remember to Breathe
The best combatant to holiday-induced stress is to simply breathe. Take 60 seconds to take a deep breath and recompose yourself in between tasks. The trick is guaranteed to reduce your stress levels, at least until your next holiday activity!
Superstition Mountain Golf and Country Club offers plenty of activities for members to enjoy all year long. Be sure to check out the club calendar for special events, available tea-times on both the Prospector Golf Course and Lost Gold Golf Course and the updated menu in the dining room.