Make Golf Your Thing
There is a movement happening in the golf industry. Across the nation, people from all walks of life are being called to, "Make Golf Your Thing."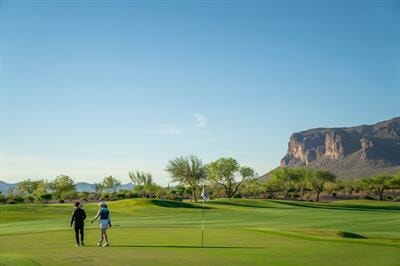 Launched in the spring of 2021, MakeGolfYourThing.org is a collaborative effort across the industry to ensure the future of golf is open to everyone. This multi-faceted, multi-year campaign invites people (from all demographics and skill levels) to enjoy the game – their way. Whether that means an outing to Top Golf, playing a round of miniature golf, 18 holes at your local public golf course or joining a private club, golf should be welcoming for everyone.
As a sport, the game of golf can level the playing field. It's a pastime that can be enjoyed by players of all ages and different abilities. There's a distinct connection that forms on the golf course and in the golf community – and that connection is what Make Golf Your Thing is all about.
Historically, the traditional way to experience the game can be very intimidating to those new to the sport. But times are changing. For the better.
As a COVID safe and family-friendly activity, there is no denying that the golf industry has been booming the past two years. A part of that comes from an increased industry focus on inclusivity and a new era of players getting into the game.
At Superstition Mountain Golf and Country Club, we have spent the last several years intentionally expanding our events and amenities to appeal to a wider demographic of members. Private club membership is no longer just about incredible golf – which we have plenty of – it's about a lifestyle.
So, pick up a golf club and join the movement. If that means a country club membership, reach out to our team to learn more about why Superstition Mountain is a great place to live and play.
In the meantime, get inspired by the Make Golf Your Thing YouTube playlist and head over to our social pages – @SuperstitionMountainGolf on Facebook and @SuperstitionMountainGCC on Instagram – to show us how you #MakeGolfYourThing.