Make the Most of Holiday Leftovers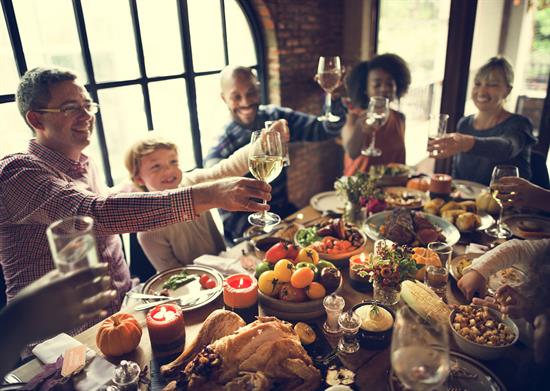 Whether you hosted a cocktail party or formal holiday dinner, there are no doubt leftovers. But fear not, our talented, private country club chef, Josh Nylin, has come to the rescue. Below, Chef Josh shares a couple of recipes to give leftovers a lift.
Everyone puts out a vegetable tray … it's the right thing to do. But it seems there are always leftovers as people treat themselves to more decadent holiday offerings. Give those veggies a tasty boost with this fritter recipe – and don't forget the sauce.

Vegetable Fritters
Ingredients:
3 cups Frying Oil

1 cup All Purpose Flour

1 tsp Baking Powder

½ tsp Salt

¼ tsp White Sugar

1 Egg (lightly beaten)

½ cup Milk

1 tbsp Softened Butter

12 oz Diced Roasted Vegetables
Method:
Dice the leftover vegetables, lightly toss in oil and season with salt and pepper. Roast in the oven until nice and golden brown.

Heat oil in large pot to 365 degrees.

While oil is heating, combine the flour, baking powder, salt, sugar in a large bowl.

In a separate bowl, beat the egg, milk, and butter and then stir into the flour mixture.

Gently fold in the roasted vegetables.

Carefully drop batter into the hot oil, one spoonful at a time, and fry until golden brown.

Be sure to drain on a paper towel to catch the excess oil.
Dipping Sauce


Whisk together 1 cup mayo, 1 cup Siracha and 1 cup maple syrup and enjoy.
Not just for Thanksgiving, Turkey has a starring role all season. A twofer, this yummy hash utilizes leftover mashed potatoes and the turkey. We think it sounds perfect for New Year's brunch.

Turkey Hash
Ingredients:
1 Red Onion (diced)

1 Poblano Chile (diced)

1 Red Bell Pepper (diced)

1 Yellow Bell Pepper (diced)

2 cups Left Over Mashed Potatoes

1lbs Turkey (diced)

2 tbsp Onion Powder

2 tbsp Garlic Powder

2 tbsp Smoked Paprika

2 tbsp Chile Powder

¼ cup Kosher Salt
Method:
Sweat the diced onions, chile and peppers together until soft. Set aside to cool.
Fold diced turkey and spices into the potatoes, then add the cooled vegetable mixture.
Toss all the ingredients into a cast iron skillet to fry. Once nice and crisp, top with two eggs cooked to your preference.

If you've had enough cooking for the season, head over to the clubhouse and let the culinary team at Superstition Mountain Golf & Country Club man the kitchen … and clean up duty.