Meet LPGA Golfer Caroline Inglis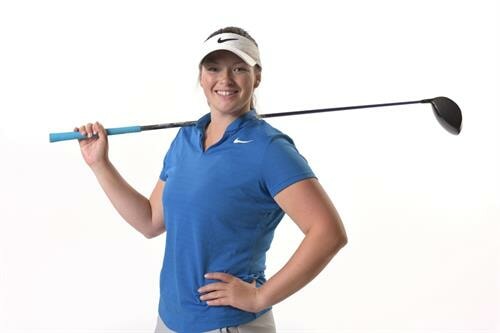 At Superstition Mountain Golf and Country Club, we are privileged to have several professional golfers among our membership roster who take advantage of our award-winning Jack Nicklaus designed course throughout the year. We recently sat down with LPGA golfer and Superstition member, Caroline Inglis, to get to know her a little better.
What about the 2020 Founder's Cup tournament are you most looking forward to?
I have been sidelined with an injury for the last year and a half, so I am just excited to be healthy and back on tour competing. I also really enjoy the golf course and how many birdie opportunities there are.
Anything about the course or the tournament that you think will be challenging?
Because it's my first event back in so long, getting into the competitive flow will be the biggest challenge.
Any specific strategies in mind going into the tournament?
It's important during practice rounds to get the feel and speed of the greens for chipping and putting. I already know the course from playing it in 2018, but getting a solid game plan and executing shots is important when competition time comes around.
What have you been doing to practice/get ready for the tournament?
I have been making some swing changes with my coach during the offseason which have improved my consistency and ball striking. I've also been working very hard on all aspects of my game to get tournament ready. I think the mental game is also very important, and I've been seeing my sports psychologist to make sure I'm prepared in that regard as well.
What is your connection with Superstition Mountain Golf and Country Club?
I played Superstition Mountain a couple years ago with Mina Harigae, and I loved the course and the whole club in general. Once I had my back surgery and could practice again this winter, I wanted to come to Arizona where my coach was and where the weather was nicer than back home in Oregon. I reached out to the staff at Superstition Mountain, and they were generous enough to allow me practicing and playing privileges. I absolutely love the golf course and facilities, and it's been amazing being at Superstition!
How would you describe the club and/or its courses? And/or what do you love about it?
Superstition Mountain is a golf paradise. The practice facilities are phenomenal and both golf courses are so fun. They are always in great shape, and it's so nice to have two different courses to play. I love how friendly everyone is at the club, including both staff and members. It's just a great place to be!
At Superstition Mountain Golf and Country Club, we strive to provide all members and guests with pristine courses, picturesque mountain views and a lively community life. Meet the rest of our Superstition family by visiting the Meet the Staff page on our website.