Meet PGA Golfer Chan Kim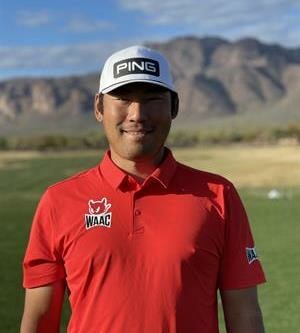 Chan Kim is a PGA TOUR professional golfer and one of the nicest guys you'll ever meet. Recently, we sat down with Chan to talk golf and what he loves most about being a member at the mountain.
How did you end up in Arizona?
I moved to Arizona from Hawaii my junior year of high school to play golf at Hamilton High School with some of my junior golf friends. We had an excellent team and I was hoping it would help me to get accepted and play for Arizona State University. I loved the fact that I could practice and play golf year round.
What is your connection to Superstition Mountain Golf and Country Club?
I had the privilege of playing with Matt Brooks at the Waste Management Phoenix Open Monday Qualifier. I was invited out to play and was offered an Honorary Membership to practice and play at Superstition Mountain Golf and Country Club. It has been one of the best decisions of my life.
Which of the two Nicklaus-designed golf courses at Superstition Mountain is your favorite, Lost Gold or Prospector, and why?
I actually like both as they serve two different purposes when I am practicing. I love to play Lost Gold before tournaments to work on hitting fairways and mid/long irons. I like to play Prospector if I feel my wedge game needs to be dialed in. Both are amazing courses and always a treat to play.
What is the best thing about the club and/or the courses?
I would say the Number 1 thing for me at the club is definitely the members and staff. To have members and staff who are so welcoming and supportive means a lot to me. It is definitely my home away from home. The added bonus is that both golf courses are always in such great shape and allow me to really be prepared for any tournaments I have coming up. It is an honor and a privilege to be part of such an amazing club.
What do you think is the most challenging hole Superstition has to offer and why?
The most challenging hole to me is Number 3 on Prospector. It is a very long Par 4 and normally plays into the wind. Even with a solid drive in the fairway, the second shot is normally a mid to long iron with a green that can be tough to hold.
How has your partnership with Superstition Mountain helped your game?
To be able to have two amazing golf courses to practice on helps me to better prepare for tournaments with both courses offering something different. As I have mentioned above, Lost Gold is great for focusing on hitting fairways and practicing mid to long irons. Prospector has helped me with wedge practice to some tucked pins in corners which force me to be very accurate with carry numbers. Also, to have members and staff that are very supportive and always cheering you on during tournaments are a big bonus for the mental side of golf.
Who's in your dream golf foursome and where would it be played?
I would have to say my dream golf foursome would include Tiger Woods, Annika Sorenstam, Jack Nicklaus, and Arnold Palmer. All being legends, but with different play styles that I could learn from.
What is your favorite thing about the game of golf?
My favorite thing about golf is the fact that no two days are the same. Every day seems to be a new mystery with the sport but I feel that's what makes this game so fun and exciting. You feel every emotion humanly possible in 18 holes and 4 1/2 hours.
Do you have any golf superstitions?
I do have a few golf superstitions. If I am playing well with a certain number on a golf ball, I will use that number only until the end of the round. Also, if I start to make putts after using a certain ball marker, I will only use that ball marker. Keeping it consistent seems to put me in the zone when I am playing and be able to see shots or putts better.
What accomplishment are you most proud of?
I would say the accomplishment I am proud of the most up to date would have to be winning the Order of Merit Title on the Japan Golf Tour Organization (JGTO) I have been close for 3 seasons so to be able to finally accomplish it last season was a great feeling.
You can learn more about Chan's career on GolfChannel.com OR head over to the Superstition website to learn more about how you can become a member.