Most Popular Types of Wines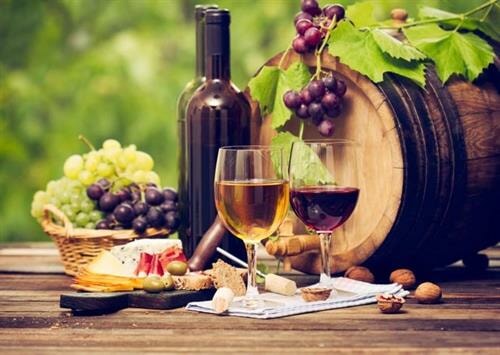 The team at Superstition Mountain Golf & Country Club takes pride in creating delicious food and wine specials for a perfectly paired dining experience. While most people know what type of wine they prefer, it never hurts to explore new varietals and learn about the specific characteristics that make up your favorite glass of vino.
Whites
Chardonnay
One of the most popular selections of white wines, Chardonnay can be crisp and citrusy or deep and buttery. If you are looking for fresh, floral notes pick an "unoaked" style of Chardonnay. Conversely, wines aged in oak barrels will provide a more creamy, buttery experience.
Rosé
This varietal has been enjoying an increase in popularity recently and is often touted as one of the best wines for summer. Unlike its blush cousins – White Zinfandel or Pink Moscato – Rosé is more likely to be dry than super sweet. Because it can be made from any type of grape, specific flavor notes can vary, but a typical Rosé will be light and fruity.
Riesling
Rieslings are light-bodied, fruit forward and often on the sweeter side of the spectrum. However, dryer options have become available making this a more versatile wine than most give it credit for. Made from an especially aromatic grape, this varietal can feature flowery or perfumed aromas. Overall, Riesling is crisp, refreshing and easy to drink.
Reds
Pinot Noir
A light to medium-bodied red wine, Pinot Noir is very food-friendly and pairs well with a variety of dishes. Prone to showing its roots, this wine's flavor notes change along with variations in the crop such as soil makeup, temperature or sun exposure. Typically fruit-forward, Pinot Noir is a crowd pleaser and usually one of the first reds enjoyed by those who typically reach for a white wine.
Merlot
Merlots are traditionally soft, easy to drink wines that have long gained widespread popularity. A good match for food, Merlot pairs especially well with hearty dishes that contain meat, mushrooms or root vegetables. This medium to full-bodied wine can have deep plum and blackberry notes or feature fresh berry and herb flavors.
Cabernet Sauvignon
With a deep, full-bodied profile, Cabernet is one of the most popular wines in the world. A bold, dry wine, cabs often contains notes of dark fruit and vanilla, especially in those that have been "oaked" or aged in oak barrels. Cabernets have also been known to offer flavor profiles that include black pepper, licorice and tobacco notes.
Members at Superstition Mountain enjoy a well-cultivated selection of wines that feature plenty of red and white selections as well as several luxurious sparkling wines and champagnes. To learn more about how you can join the club and take advantage of delicious food and beverage offerings, learn more about our membership options.