Nicklaus Design Courses at Superstition Mountain
At Superstition Mountain Golf and Country Club, we are proud to offer members 36 holes of spectacular Nicklaus Design golf. Our two, award-winning courses were designed by Jack and his sons - Prospector Golf Course with Gary Nicklaus and Lost Gold Golf Course with Jack (Jackie) Nicklaus II. Each hole stands up to the Golden Bear's tradition of excellence.
The Nicklaus Design team has developed more than 400 golf courses across 45 countries, all with the goal of creating courses that are both enjoyable and challenging for players of all skill levels. For nearly 50 years, the company's mission has remained the same - to elevate the golf experience and produce timeless, premium golf courses around the world. In addition to course design, Nicklaus Design develops golf communities and offers a variety of lifestyle products and services.
Anyone who has played a round Superstition will experience the meticulous planning and attention to detail that goes into every Nicklaus Design course.
The Nicklaus Design team says it best: "Golf at Superstition Mountain is more than just a game – it is a captivating experience. Nestled along the edge of the legendary Superstition Mountains. Lost Gold and Prospector are two championship golf courses, each with its own unique personality and its own promise for an individual challenging golf experience. At an elevation of 2,000 feet, both courses are desert courses and feature native areas and natural dry riverbeds."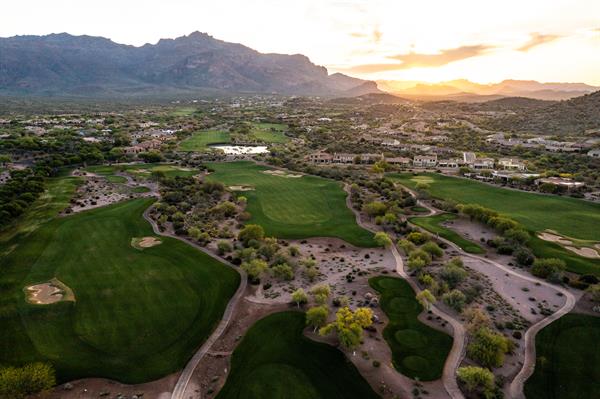 The first course to open at our private golf community was the 7,185-yard Prospector. Designed with a classic layout, Prospector takes full advantage of the club's spectacular desert scenery. A signature hole - the 18th - allows members to finish their round with a beautiful challenge, facing a large oasis-like water feature with magnificent views of both the Superstition Mountains and the impressive clubhouse.
Lost Gold, the second course to open at Superstition, is a 7,351-yard links-styled course that presents a slightly more challenging experience than Prospector. This course features smaller greens and strategic bunker placements to keep things interesting.
Members: Head over to the Superstition Mountain social pages and let us know which course, and hole, is your favorite.
Not a member but interested in learning more? Click here for more information about our private club membership options.