Spring Golf Event Roundup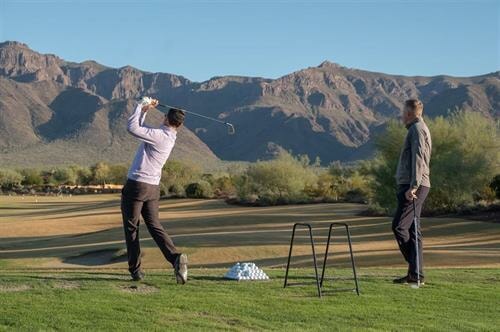 Spring in Arizona attracts golf enthusiasts from across the nation with its pristine courses, impeccable weather and weekly events. Whether you're looking for an organized tournament or a fun-filled charity event, here are a few upcoming outings ideal for showing off your skills.
AGA Scramble Day
All are welcome to participate in the Arizona Golf Association's Scramble Day. Held on Saturday, March 21, 2020 at Oakwood Country Club, AGA Scramble Day provides a fun, non-competitive day of golf. Tickets are $65 a player and include a round of golf, a golf cart, range balls and a gift bag. If you don't arrive with a playing partner, AGA will pair you up with another golfer. Registration opens at 7 a.m. followed by the shotgun start at 8 a.m.
Pro Tip: AGA hosts multiple Scramble Day events throughout the year for all golf lovers to enjoy. Check out the full 2020 Scramble Day schedule.
2020 Gallery Invitational
Showoff your competitive side at the Gallery Invitational April 16-18, 2020. Hosted by the Gallery Golf Club, the event is a 36-hole scratch four-ball tournament featuring three distinct age divisions including Open (25+), Senior (50+) and Super Senior (60+). The entry fee is $750 per team and includes one practice round, two tournament rounds, cart, practice facility fees, daily breakfast and lunches and welcome gifts.
Swing FORE A Cause
Enjoy a fun round of golf and benefit the St. Jude Children's Hospital at the 2020 Swing FORE A Cause charity tournament on Saturday, May 9. Hosted at the beautiful Mountain Shadows Resort in Paradise Valley, the tournament includes a relaxing morning of golf, a delicious lunch, games, prizes, a SWAG bag and silent auction. Players can register for a variety of ticket options from a single player to a foursome.
6th Annual Ronald McDonald House Greater Phoenix Pro-Am
Ronald McDonald House Charities of Central and Northern America and JFQ Lending is hosting its 6th Annual Ronald McDonald House Pro-Am Tournament on Thursday, May 14, 2020. A fun pro-am experience, the event gives golfers an opportunity to play with tour and local professionals at the scenic Grayhawk Golf Club in Scottsdale. The event includes a light breakfast, silent auction, VIP clinic, lunch, raffle and awards ceremony. The player entry fee is $750 and all proceeds benefit the Ronald McDonald House Charities.
Superstition Mountain Golf and Country Club offers a variety of golf and non-golf events for members and their guests to enjoy all year long. Check out the dining and social events page on our website to learn more about our community calendar.