Fitness & Wellness
Superstition Mountain Golf & Country Club offers a full service fitness and wellness program exclusively for members.

The Sports Club at Superstition Mountain features state of the art cardio machines, free weights and plyometric equipment. Club members can participate in a variety of fitness classes in the multipurpose room including pilates, yoga, core conditioning and more. At Superstition Mountain we also offer highly certified and educated personal trainers that can assist with workouts or meet with you individually to prepare a program that's right for you. For those who prefer games in addition to working out on machines or taking classes, there are plenty of activities to keep you busy. The Sports Center complex offers tennis and pickleball courts, a resort-style swimming pool, shaded wading pool and hot tub. Browse through the categories below for a look into the many offerings that await you.



+

Fitness Classes & Activities

We have a variety of classes that run throughout the year. Browse through the list of core classes plus additional seasonal classes offered here at the Club.

HIIT: High Intensity Interval Training. In this class you will work both aerobically and anaerobically at different intensity levels, getting a good cardiovascular workout as well as lower intensity strength work. We use various gym equipment to give our bodies an all-around great and safe workout. Modifications and alternatives are always given so that those looking for less intensity can feel good about participating. This method of varied intensities keeps your heart healthy and muscles and bones strong.

Strength and Core: This is a 60 minute class designed to increase lean muscle, improve structural strength, increase endurance, and decrease excess body fat. We will use varied weights and bands as well as repetitions to accomplish and all-over strengthening body workout. The class concludes with a core workout to improve stability and basic core muscles.

Full Body Shape and Stretch: A low intensity, no impact workout designed for full body toning, shaping, and conditioning. We will pick different body area concentrations each class, and end with a good stretch. This is a great class for the beginner as well as the advanced looking to take a lighter work load day.

Stretch and Flex: This class will give you an all-over good stretch for your muscles using various gym and stretch equipment. Stretching gives your body time to recover and improve your flexibility through stretching all muscle groups. Each class will also pick a strength move. The class is geared to keeping your joints moving through a full range of motion.

Total Body in 30: This class is a 30 minute head to toe workout for any level. We focus on muscle sculpting and calorie burning using both weights and our body weight. You can get in and get out feeling good and having that metabolism jump started!

Core Conditioning: This class focuses on core and stability muscle strengthening. Exercises are done standing and on the mat. It is a lower intensity, and no impact workout. Strengthening your core is essential for maintaining correct posture and aids in stabilizing the body.

Aquafit: A 45 minute class in the pool using pool equipment and body weight to get a great workout taking advantage of the buoyancy of the water to protect joints and spine. A great class after an injury or if you are favoring and sore muscle or joint, a great recovery day workout, as well as an overall great workout for any fitness level.

Power Sweat Reset: A new evening class added to the program for those busy during the day, or just wanting to reset after your day. You will get a full workout using stations set up around the fitness room. You can work at your own pace as the stations will move on a timer. Your coach will walk the stations giving one on one instruction to ensure safety and optimum effectiveness of each exercise. Come power up, sweat off the day, and reset your mind.

Strength Club: Build muscle, burn calories, and get in shape. A couple days of resistance training per week can lead to big changes in your body. I'll strengthen your muscles and bones, give your posture a lift, and boost your mood. Strength training also stokes your metabolism, so you'll burn more calories even when you rest. And it slashes your odds of getting injured by improving joint stability target major body movement. Starting with lighter weights and tracking progress over time. In the weight room and suitable for all.

Beginner Mobility: Total body mobility exercises for anyone who is able to get on and off the floor on their own and looking to gain more mobility in their body. You will be guided through a mobility routine that takes place mainly on the floor targeting back, hips, shoulders, neck, and legs.

Arm Sculpt: An upper body strengthening class that leave you feeling pumped up.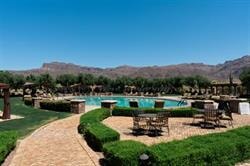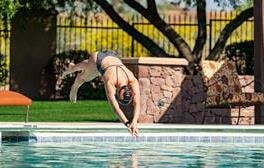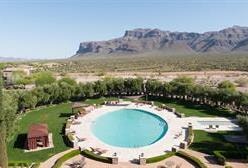 Always inviting, Superstition Mountain's spectacular, oval shaped resort-style pool is perfect for the serious lap swimmer or anyone simply seeking a casual relaxing dip. Heated to 83 degrees in the winter, the 5 - 5 1/2 ft. pool can be used year-round for sport and recreation.

25 meters down the center of the pool, our Junior Olympic swimming pool is designed so that you can swim laps the length of the pool, or walk around the perimeter of the pool. Working out against the resistance of water is one of the best exercises you can do.
In addition to our swimming pool we also have a 1 1/2 ft. wading pool perfect for wading, lounging or just cooling off and a Jacuzzi for relaxing after a long day.
If it's a relaxing day by the pool you are seeking, sun shades provide members with protection from the desert sun while lounging poolside. Accommodations are on a first come, first serve basis and towels are provided for Members and their guests.


TENNIS: Superstition Mountain has an active tennis group that plays quality tennis in an organized, fun, and social setting. With three hard courts and one synthetic clay court there is plenty of room for everyone. Whether you want to play sets, hit around and have fun, or work on your game, Superstition Mountain's tennis group has members interested in exactly the same thing; playing tennis and having fun!
PICKLEBALL:
A cross between tennis, table tennis and badminton, pickleball is a paddle sport for all ages and all athletic ability levels. It is easy for beginners to learn, but can develop into a quick, fact paced game for experienced players. Our members get together on a weekly basis and play for fun. If you enjoy ping pong, badminton, and tennis,
then this is the game for you.
INSTRUCTION: Join one of the Valley's finest tennis professionals, Melissa Tofoya on the courts. Melissa is certified Elite Professional by the United States Professional Tennis Association (USPTA), the Professional Tennis Registry (PTR) and the Professional Pickleball Registry (PPR). With Weekly Clinics, Private Instruction and Group Instruction you are sure to find an activity that's right for you!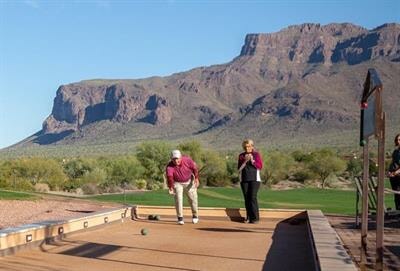 One of our newest amenities at Superstition Mountain Golf and Country Club is Bocce Ball! Constructed in the Fall of 2017, the club showcases two lighted, full competition size courts for all members to enjoy. Developed into its present form in Italy, Bocce has been described as a hybrid of lawn bowling and shuffleboard. Enjoy friendly competition and cocktails while relaxing round the fire pit and taking in the breathtaking views of the Superstition Mountains.
Bocce leagues, tournaments and open play are all available seven days a week, enabling players of all ages the option of fierce competition or a relaxing, casual game while socializing with family and friends.
Our fitness team has added the benefits of each healthy menu item to ensure you are "Fueling Your Fitness" while here at the Club. Below you will find nutritional information on select menu items.

Look for the Fuel Your Fitness logo on our menus which represents health conscience option.


Shrimp Cocktail
Lemon, House Cocktail Sauce
Southwest Power Bowl
Cilantro Rice, Black Beans, Roasted Corn, Pineapple & Strawberry Pico, Avocado
Add Protein: 6 Oz Grilled, 6 Oz Seared Atlantic Salmon, 3 White Shrimp
Grilled Beef Tenderloin
Herb Mashed Potato, Asparagus, Demi Glace
Pan Roasted Icelandic Salmon
Curry Roasted Fingerlings, Zucchini, Peppers, Onion, Wilted Spring Mix, Grapefruit Vinaigrette
Additional "Fuel Your Fitness" options are listed on our Seasonal Features Menu.
---
Food Allergies & The Big 8
What are the Big 8? Dairy, Soy, Tree Nuts, Shell Fish, Eggs, Fish, Peanuts, Wheat (Gluten)