Lifestyle Newsletter

Summer 2021 Issue
Thank you for visiting our website to learn more about Arizona's premier golf and country club. Here at Superstition Mountain our members share a wide array of interests and activities that extend far beyond the tee box. From social groups and events, to activities and hobbies, there is truly something for everyone. The active lifestyle and comradery provides a small town feel for which Superstition Mountain prides itself. We are excited to share a few of the events, activities and membership offerings available at the Club.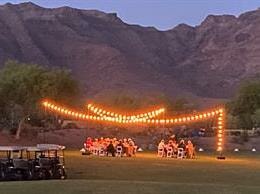 POP UP DINNER

Nineteen Members jumped in golf cars and toured the neighborhood trying to figure out where our first 'Pop Up Dinner' would be. We landed on the north end of the driving range to a fresh mushroom themed dinner. Wine was paired with each course and mushroom centerpieces were harvested for the entrée . Spectacular views, fabulous food, and fun times with new and old friends made for a great night!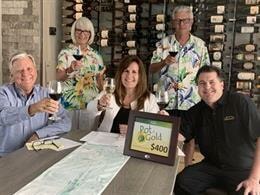 Member Mixer Coming to You Live
Join us on the first Thursday of the Month at 5 pm Live on Facebook. Get a chance to meet our staff and hear what's happening at the Club. Watch as General Manager, Mark Gurnow and Events Coordinator, Nicole Coughlin chat with surprise guests and talk all things golf plus so much more.
Visit our Facebook page

and see for yourself why Superstition Mountain is a

Great Place to Live and Play!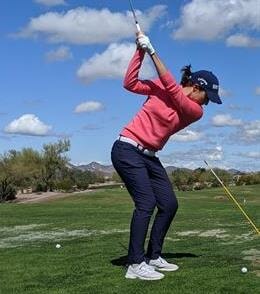 Health and Fitness Highlights
TPI Certified Instructor, Zach Gulley worked with members this season to help take their golf game to the next level. Zach incorporated a regimented speed training protocol to boost their swing speed. Member and LPGA player Carlota Ciganda worked with Zach and had this to say about her experience.
"In the month leading up to my Asian tour Zach and I worked a lot of speed and power training into our workout routine in attempt to gain some speed before starting my season. While I was in town I was able to gain speed from using the speed sticks and noticed about 10 yards on trackman. It has been a great tool for me for warming up before playing. I love the power exercises and I feel faster!" - Carlota Ciganda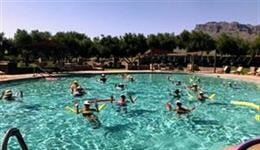 Getting Exercise in the Summer Heat!
Members can take part in AquaFit every Monday, Wednesday and Friday. It's a great way to stay in shape and cool down in the summer heat. This class can improve your strength, power, mobility and balance.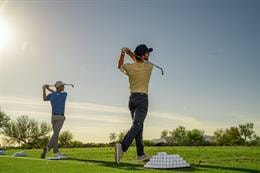 Executive Membership
Are you between the ages of 40-49 and think that Golf membership is out of reach? Join the Club as Executive Golf members for $15,000 initiation! Dues are the same as full Golf members (currently $1,070/month), with all the same privileges.

Click here to view our Membership Offerings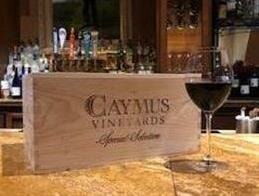 Superstition Wine Society
The Wine Society is off to a great start! Members have the opportunity to purchase wine while at the Club or wine for their home, all at a great discount. With Wine Tastings, Wine Education Series, and Wine Showcases on the horizon, the value of our newest Club will be hard to beat!
Upcoming Events
Wine Tasting
Cooking Class
Bingo
Pop Up Dinner
Virtual Member Mixer
Arizona Distillery Tour and Tasting
Pierce Winery Tasting and Day Trip to Clarkdale, AZ



8000 E Club Village Dr, Superstition Mountain, AZ 85118
P: (480) 983-3200 | © 2017 All rights reserved