The Importance of repairing Ball Marks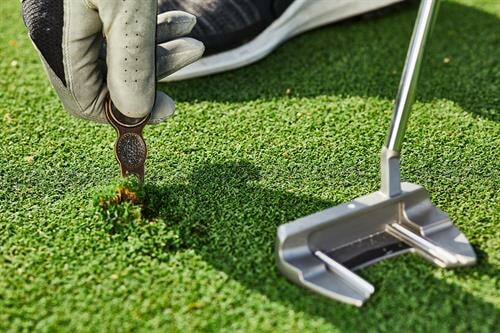 Isn't one of the objects of golf to land your ball on the green? Then why wouldn't there be golf marks on said greens? There's two beautiful courses here at Superstition Mountain Golf and Country Club and that wouldn't be true if our Members and their Guests weren't fixing their ball marks. Our Agronomy crew does the bulk of keeping our Nicklaus designed courses in fantastic shape, but with over 200 rounds a day being played in season, we rely on each golfer to help do their share.
What difference does it make if there's a ball mark or two left behind after a hole is finished and we head to the next tee box? Just ask any golfer whose game depends on making their next putt. Left alone, ball marks leave a depression in the green affecting the turf and the putting line for the next golfer. Ball marks make a huge difference to the players behind you. Ball marks messing up a putt might be as frustrating as pace of play so it makes sense for everyone to fix their marks and here's how.
First, take your ball mark repair tool and insert the prongs into the turf at the edge of the depression. Forgot your repair tool? The starter stand or Golf Shop is a great resource if you're in need. Next, push
the edge of the ball mark toward the center, using your ball mark repair tool in a gentle twisting motion. Finally, smooththe surface with your putter or your foot. Once the ground is even and flat, you're done!
A ball mark can cause the grass in the depression to die, leaving not just a scar but also a pit in the putting surface that can knock well-struck putts offline. Repairing a ball mark restores a smooth surface and helps keep the grass healthy. Some researchers have found that ball marks repaired incorrectly can take twice as long to heal and regrow than those done the right way.
Taking a minute to fix your ball marks has lasting effects; the golfers behind you will enjoy the greens the same way you saw them, nice and smooth. The greens and courses will stay healthy and most important, it shows respect for the game we all love. Whether you're on Prospector, Lost Gold or practicing for your next tournament, we're grateful for all you do to keep our greens beautiful.