The Masters is Coming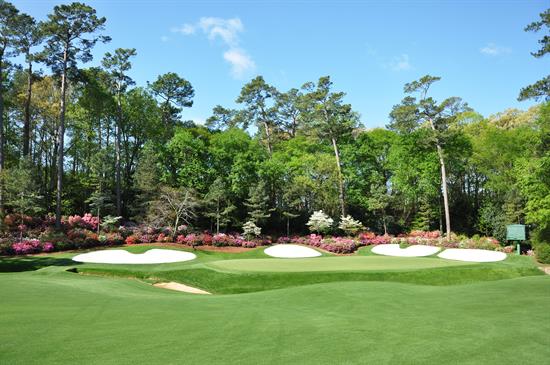 Held annually the first week of April, the Masters Tournament is the first of four major championships in professional golf. Founded by legendary amateur golfer Bobby Jones and Clifford Roberts, an investment banker, the Masters began after Jones and Clifford built Augusta National as way to give back to the game – by hosting an annual tournament. The first event was held in 1934 and the rest, as they say, is history.
In preparation for one of the greatest events in golf, the team at Superstition Mountain Golf and Country Club has rounded up some Masters Tournament fun facts and a few ideas to help elevate your watching experience.
Masters Trivia
Q: Who was the first person to win the Masters?
A: Horton Smith. Horton won the Masters a second time in 1936
Q: Which golfer has won the most Masters?
A: The Golden Bear himself, Jack Nicklaus. Nicklaus has won six times and is also the oldest player to win the Masters, with his final win at the age of 46.
Fast fact: Tiger Woods comes in second with five wins and Arnold Palmer rounds out the top three with four wins.
Q: Who was the youngest player to win the Masters?
A: Tiger Woods – he was only 21 the first time he took home the championship. Jack Nicklaus is the youngest second-time winner, securing his second Masters win at that age of 25.
Fast Fact: Both Prospector and Lost Gold at Superstition Mountain are Nicklaus-Design golf courses.
Q: Before it was turned into one of the most iconic golf courses of all time, the land where Augusta National sits was formerly…
A: Fruitland Nurseries. The 365-acre site was one of the top producers of Peaches in the country and also grew a variety of other fruits and plants.
Fast Fact: A large house, dubbed Fruitland Manor, was built on the property in 1853 and repurposed as the golf course clubhouse.
It's Not The Masters Without…
Azaleas. More than 30 varieties of azaleas can be found around the course.
The iconic green jacket. There are two different stories in golf legend as to how the green jacket came to be – either because Bobby Jones liked what he saw while visiting Royal Liverpool in England or Clifford Roberts wanted members to be easily identified by guests. You can read more about the history and jacket details on the PGA website.
Pimento Cheese Sandwiches.
Some consider it a southern thing - and Georgia's huge pimento production likely lead to this humble addition to the Augusta menu - but the cheese sandwich is a Masters must-have.
BTW – in case you are wondering, other than the little red thing stuffed inside an olive, a pimento is a sweet pepper.
Pimento Cheese Sandwich Recipe:
3 cups shredded white cheddar cheese
2 cups shredded yellow sharp cheddar cheese
4 oz crumbled blue cheese
1 cup shredded Parmesan cheese
1 (4-oz) jar sliced pimentos, drained
1 cup light mayo
2 tbs Dijon mustard
1 loaf of white bread
Combine cheeses, pimentos, mayo and mustard in a food processor and process until smooth. Cover and chill. Spread on bread slices. Makes four sandwiches.
Recipe shared from golf.com, and the book Par 3 Tea-Time at the Masters by the Junior League of Augusta, Ga.
Azalea Cocktail
And, finally, you can't have a great Masters watch party without libations. A nod to the Masters' signature flower, the Azalea Cocktail is the unofficial drink of the tournament. Delicious and festive, with or without the booze. Take a page from the fine folks at Golf.com and whip one up at home … or head over to the Superstition Mountain clubhouse and have our team pour one for you.
Azalea Recipe
2 oz good vodka (or gin if you prefer)
2 oz pineapple juice
1 oz lemon juice (not lemonade)
1 spoonful of grenadine
Combine all ingredients in a cocktail shaker filled with ice. Shake, shake, shake, then pour through a strainer into a tall glass filled halfway with rocks
Note: A lemon garnish on your Azalea is lovely. Just don't use actual azalea leaves — they're highly toxic.
Head over to Facebook: @superstitionMountainGolf or Instagram @superstitionmountaincc and show us how you are celebrating Masters week.