Tips For Throwing A Mardi Gras Party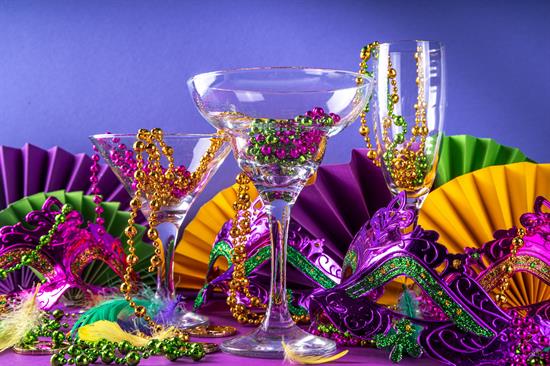 About Mardi Gras
The annual celebration, also known as Carnival or Fat Tuesday, is recognized around the world as a time for extreme parties and maximum indulgence. Held the Tuesday before the start of the religious custom of Lent, it is one last hurrah before the Lenten season's required fasting and abstinence.
While Louisiana is the only place in the U.S. where Mardi Gras is an officially recognized holiday, celebrations take place across the country. So, the team at Superstition Mountain Golf and Country Club has rounded up some tips to help you throw the best Mardi Gras party west of New Orleans.
Theme
The official colors of Mardi Gras are purple, green and gold. Traditional decorations include plenty of feathers, colorful masks, metallics and, of course, the iconic beads. It's a Carnival so when it comes to party décor, the more the merrier.
Keep it classy with candles and flower arrangements in the traditional colors or go all out with balloons, streamers, plastic beads and feather boas.


What to Serve
Anyone who has been to Bourbon Street will confirm THE drink of Mardi Gras is the Hurricane. Named for the glass it's served in, which resembles the shape of a hurricane lamp, this fruity libation was invented during World War II at Pat O'Brien's bar.
Here's a traditional Hurricane recipe, courtesy of NewOrleans.com
2 oz. light rum

2 oz. dark rum

2 oz. passion fruit juice

1 oz. juice
½ oz. fresh lime juice
1 tablespoon simple syrup
1 tablespoon grenadine
Shake all ingredients in a cocktail shaker with ice and strain into a hurricane glass filled with ice. Garnish with a cheery and an orange slice.

From Jambalaya and Gumbo to Shrimp Etouffee andKing Cake, Delish.comis a great resource to find recipes for all the Cajun classics. If you are looking for something easy – that's still going to impress your guests – consider a good old-fashioned Cajun Crawfish Boil.
This one-pot dish combines fresh crawfish, Andouille sausage, onions, corn and potatoes with a generous amount of creole seasoning.
Speaking of King Cake…
A mix between a coffee cake and a cinnamon roll, this tasty pastry is topped with festive yellow, green and purple icing. And don't forget about the plastic baby. Either baked inside the cake or placed under a slice, tradition says that whoever finds the baby is responsible for hosting next year's party. Or at least for providing the next King Cake.
Learn more about the history of King Cake here.
With your decorations in place and the menu planned, the only thing left to do is set the mood with this Zydeco playlist. For the record, we don't really want to know what you did to get those beads.