Top 5 Kitchen Ingredients from Chef John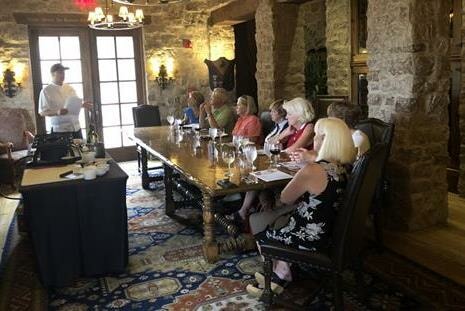 When cooking at home, it's important to keep the basics stocked. We're all familiar with the staple items such as milk, butter and eggs. However, each household always tends to have a few must-have ingredients they can't live without. We spoke with John Vite, executive sous chef of our outstanding culinary team at Superstition Mountain Golf and Country Club. Here are a few of the key ingredients he considers "must haves" in the kitchen.
1. Olive Oil
A great ingredient to use when frying meat, olive oil keeps steak and chicken extra crispy. Using it also adds amazing color to meat when searing. One of the most important reasons Chef John uses olive oil is because it's a healthy option that also contains a high smoke point that makes it easy to cook with.
2. Extra Virgin Olive Oil (EVOO)
Along with a bottle of olive oil, Chef John always keeps extra virgin olive oil (EVOO) in the kitchen as well. Different than standard olive oil, EVOO is great to use as a finishing touch rather than a cooking ingredient. Pour EVOO over finished pasta or consider using it as a salad dressing. Chef John also recommends using a butter knife to dip into the oil and spread it over hot, fresh Italian bread. For added flavor, try infusing EVOO with ingredients such as garlic, basil, thyme or even red pepper flakes to give it an extra kick.
3. Kosher Sea Salt
Unlike table salt, kosher sea salt is all-natural and pure from the Earth. Chef John says he generally uses less salt when using kosher sea salt rather than table salt because he can better control the amount. This is due to the salt being natural. Because it comes naturally from the Earth, you can see the individual crystals that make up the salt and have a better understanding of how much to use. Chef John commonly uses kosher sea salt in pasta water and salad dressings.
4. Fresh Pepper Grinder
If you're using standard, powdery pepper, try swapping it out for a fresh pepper grinder. Chef John keeps a fresh pepper grinder in his kitchen and uses it for seasoning a variety of dishes such as chicken breast, catfish and steak. He says using a fresh pepper grinder is a better option because the fresh, cracked pepper gives off a stronger and enhanced taste. Similar to kosher sea salt, fresh pepper is also more natural, making it easier to control the amount.
5. Homemade Chicken Stock
Although it's not necessarily an ingredient, Chef John likes to have a stash of homemade chicken stock in the house. Chicken stock gives off a strong, rich taste that is great for enhancing protein flavors. It can even be customized to your liking by adding veggies such as carrots or onions. Homemade chicken stock can be used in a variety of ways such as sauce for chicken piccata or in a slow cooker to braise meats. For those who are on the move, Chef John recommends freezing the homemade chicken stock in ice cubes. It can be heated up and used later for making quick sauces.
Next time you head to the store, consider stocking up on these ingredients. They may come in handy more often than you think. If you prefer to have someone else do the cooking, head to the dining room at our private, golf course community. Chef John and the rest of the culinary team are cooking up plenty of delicious dishes that you're sure to love. To learn more about Superstition Mountain, visit www.SuperstitionMountain.com or give us a call at 480-983-3200.