Top Five Secrets for Culinary Success
Some say that if you can read a recipe, you can cook. But there's more to finding success in the kitchen than knowing what ingredients go into a dish or how long to keep it in the oven. We asked Chef Josh Nylin, executive chef at Superstition Mountain Golf and Country Club, for his top five kitchen must-haves and the results may surprise you.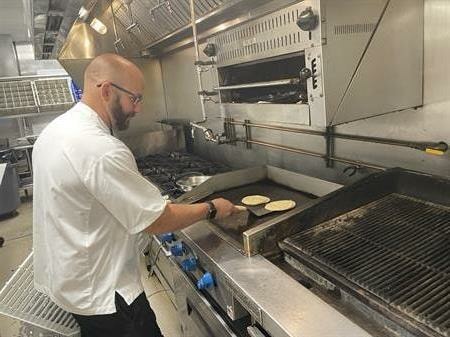 1. A Brain
A good chef or home cook needs to be able to think about and adapt to the ingredients they are using. As much as we want things to always run smoothly in the kitchen, sometimes plans do not quite work out. When the sauce breaks or the meat gets overcooked, chefs need to be able to think about how to change a recipe or repurpose ingredients to create something maybe a little different than originally planned. It's also important to have a basic knowledge of how certain items should be prepared and what flavors pair well together.
2. Good Knife
Every chef or cook needs to be able to cut everything in a safe and crisp manner. Knives are the most important tools in a chef's arsenal. A sharp knife is actually safer to use than a dull one and makes prep work quick and easy. Once you invest in a good set of knives, be sure to care for them properly. This means saying NO to the dishwasher. Handwash and dry your knives promptly after use and store them in a knife block or on a magnetic strip so they won't clatter around in a utensil drawer.

3. Japanese Mandoline
Having clean, crisp, precise cuts helps ensure elements cook evenly and allow for a more professional presentation. Lighter and less bulky than the French Mandoline (which is made of stainless steel), the Japanese Mandoline is fairly common in most home kitchens. Notably, the Japanese-style slicer's blades are positioned diagonally which offers more control and a cleaner cut. Slicing with a mandoline can be a faster and safer way to create thin, even slices – just be sure to always use the handguard.
4. Reliable Kitchen Timer
Because overcooked food is … bad. Cooking can get hectic, especially if you are working on several dishes at once or entertaining while you cook. Keep track of your time to ensure a perfect cook on every dish. The timer can also be used to monitor rest times for meat which can be as important as the cooking time to achieving juicy steaks and chicken.
5. Heart
Good food comes from the heart and when people cook with passion Cooking can be both art and science and the best food comes from happy, passionate chefs. So pour yourself a glass of wine and then pour your passion into every dish. Aside from golf, one of the most important aspects to a country club membership is incredible dining and social options. Chef Josh and his team at Superstition Mountain Golf and Country Club are ensuring members have great culinary experience on and off the course.