Top Wedding Trends to Look Out for in 2019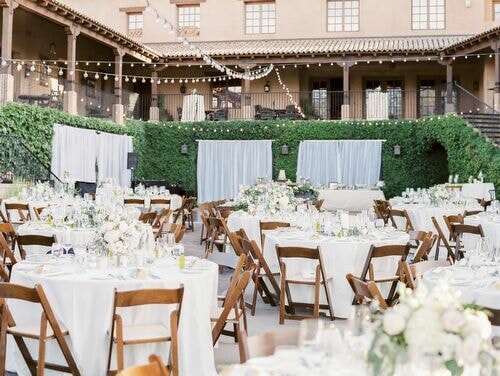 As a premiere wedding venue in the Phoenix metro area, Superstition Mountain Golf and Country Club has an inside look into all the latest trends for weddings. We're already looking forward to what's coming next as projections for next year's trends are the talk of the industry. Here's a roundup of some reoccurring themes you are sure to see in 2019.
Creative Flower Décor
In 2019, expect florists to kick it up a notch with bold displays that guests will be talking about long after the day has ended. Luxurious flower walls have been trending in the celebrity world this year and make for beautiful backdrops guests can use to take their own photos to remember the night. Also, be on the lookout for extravagant flower arches during the ceremony and even some hanging floral pieces above tables.
Technology
Technology is coming to the forefront in 2019. Not only is snapping photos essential on your wedding day, so is the wedding video. Many videographers are using drones to capture the breath-taking scenery at wedding venues, giving the video a multi-dimensional feel. Some even add in time-lapses to show the magnitude of the setup. You may also see the use of state-of-the-art light and video displays to help set the tone for the reception. With video mapping technology, traditional venues can be tailored to fit the style of the bride and groom.
Bright Colors
For years, pale color schemes have dominated the wedding scene, but in 2019, that's all changing. Bright and bold colors are back, and they are taking the wedding scene by storm. From the bridal party apparel to the centerpieces, plan to see more bright reds and deep purples this coming season.
Dessert Tables & Drinks
The single, traditional wedding cake has been falling out of style in recent years with couples opting for a more unique dessert selection. While 2018 featured mini cakes and cupcakes, 2019 is all about variety. Rather than one dessert, you're likely to see a wide selection of options to choose from, and maybe even a donut wall. Dessert drinks are also on the rise, including hot chocolate bars and a menu of sweet, signature drinks.
Look for these trends in the new year and maybe even consider them for your own special day. Superstition Mountain Golf and Country Club offers a variety of event venues, including a beautiful courtyard, private dining rooms and a spectacular ceremony lawn, perfect for any occasion. For more information about choosing Superstition Mountain Golf and Country Club for your wedding venue or special event, call: (480) 677-6620.