What you need to know about left handed golf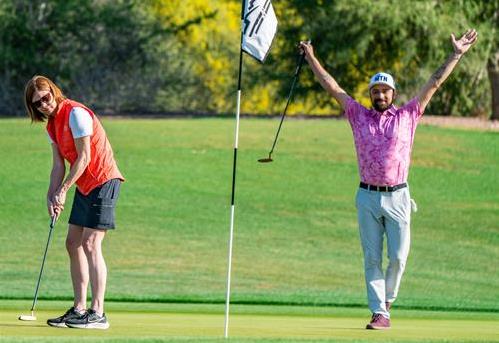 August 13 is International Left-Handers Day, a day to celebrate the approximately 10 percent of the population that has mastered lefty life in a right-handed world. That number shrinks to only five to seven percent when we're talking left-handed golfers.
If you aren't left-handed, you may not realize that golf (and sometimes life in general – just try using scissors backward!) can be more challenging for left-handers. Unlike a baseball bat, golf equipment is not designed to be used with either hand. Left-handed golf equipment can be more difficult to find, especially if you are looking for used clubs, and glove options are usually more limited.
Online golf tips and instructions are typically geared to right-handed players, so even that portion of the game can be a bit more complicated for our southpaw friends. Proper stance and swing techniques are fundamentally the same, leftys just need to mirror the setup. Practice sessions can even be challenging as some driving ranges are equipped with stationary tees on one side of the mat only. Because our range is all real grass, members of our Arizona private golf club can enjoy equal-handed opportunities.
Hot Tip: The golf instructors and pros at Superstition Mountain Golf and Country Club are well equipped to help both right AND left-handed players maximize their potential on the course.

Professional left-handed golfers include Phil Mickelson, Bubba Watson, Mike Weir and Bonnie Bryant.
Taking the top spot in the Houston Open in 1963, Australian Bob Charles became the first lefty to win on the PGA Tour. Ten years later, Sam Adams became the first left-handed American to win on TOUR at the 1973 Quad Cities Open.
Other famous left-handers include Oprah Winfrey, Babe Ruth, Neil Armstrong, Mozart, Leonardo da Vinci and Bill Gates.

Fun Fact: Phil Mickelson is actually right-handed. Legend has it, he learned to play by mirroring his dad's swing and the lefty tendencies stuck.

Show us your Lefty Love! Tag us on social – @SuperstitionMountainGolf on Facebook and @SuperstitionMountainGCC on Instagram – with your left-handed golf pics and the name of your favorite lefty.