Why Are Smoothies Good For You?
Healthy smoothies are quick, easy, and can be taken on the go. They are also a great way to get in a lot of nutrition without a lot of effort. This tasty treat is delicious any time of day, however, breakfast and post-workout are the most common time for people to add a smoothie to their supportive nutrition plan.
Smoothies are a great breakfast option that will help boost your metabolism and maintain energy levels throughout the morning. Skipping breakfast often leads to unhealthy snacking on foods that give quick bursts of energy. Program Director for TeamUp Health and Fitness, Drew Saenz recommends a healthy breakfast that will keep you fueled and feeling good through the morning and after your workout. Watch a short video from Drew explaining the importance of your morning meal.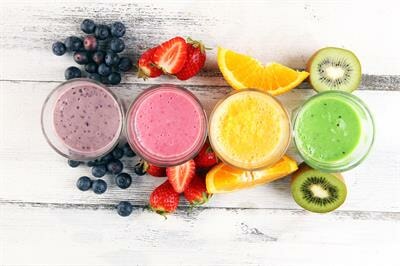 So Why are Smoothies so good for you?
Full of vitamins, macronutrients, minerals, and enzymes
Easy to digest, which means more nutrients can be absorbed
Helps stabilize blood sugar - if they contain protein and fat...and aren't overloaded with fruit
A great way to consume a variety of fruits and veggies at the same time
An easy way to add more fiber to your diet for more
Optimal digestion
Not all smoothies are created equal!
While some smoothies are all added sugar and calories, the ideal smoothie features a nutritional blend that's just as healthy as any sit-down meal. Following our smoothie guide will help you to stabilize blood sugar, NOT spike it sky high with tons of sugar from fruit and juices. Be sure to add protein and fat to help balance out the carbohydrates and sugar coming from fruit, as well as some veggies.

We encourage you to tap into your creative abilities and come up with your own smoothie recipes. You can use the How To Build A Smoothie section below.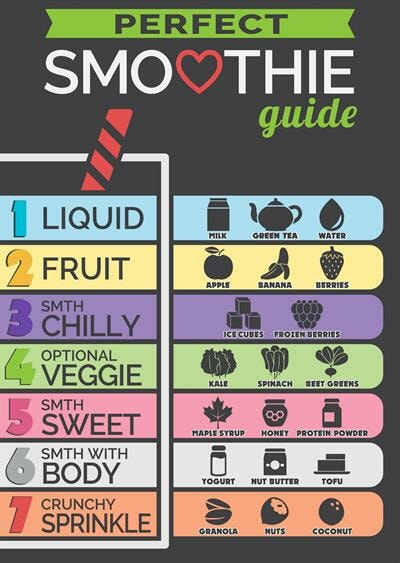 How To Build A Smoothie
Step 1: Choose a Base
1 cup Unsweetened almond milk or other nut milk variety, water, and coconut milk are examples.
Step 2: Add Protein.
Add 20-30 grams for women and 30-40 grams of protein powder for men.
Step 3: Choose your Fruit - Fresh or Frozen.
½ cup Blueberries, bananas, cherries, strawberries, raspberries to name a few.
Step 4: Make it Green.
1 cup Add leafy greens such as spinach and kale, or a greens supplement.
Step 5: Make it Creamy.
1-2 TBSP Add avocado, nut butter, chia seeds, or ice.
Step 6: Give it a Boost.
Golden ground flax seed, cacao powder, maca powder, camu camu powder, cinnamon, or bee pollen.
Looking to improve your overall health and nutrition? At Superstition Mountain Golf and Country Club, we offer a full service fitness and wellness program exclusively for members. Visit superstitionmountain.com for more information on our fitness programs.