13 Ways to Incorporate Succulents into your Wedding
Looking for an alternative to traditional wedding flowers? Look no further than the versatile succulent. As a premier Arizona wedding venue, Superstition Mountain Golf and Country Club, we cater to weddings of all themes. One theme we have noticed is trending in the wedding world is the use of succulents. Succulents are available year round in a range of colors, and are a refreshing alternative to traditional wedding floral arrangements. As an added bonus, succulents can withstand most climates and are eco-friendly, as they can be replanted after the wedding. Let's get you inspired with these unique ways to incorporate succulents into your wedding.

1. Succulent Save the Dates
Start off your succulent theme from the get-go with these save the dates! Find them and many like it here.



2. Bouquet
When combined with elegant flowers, succulents take bouquets to the next level. They also will help strengthen your bouquet as succulents are durable and hardy and will not wilt in warm climates.



3. Bridal Party Flowers
See above for all the great reasons to incorporate succulents into your bridesmaid's bouquets, corsages or the groomsman's boutonnieres.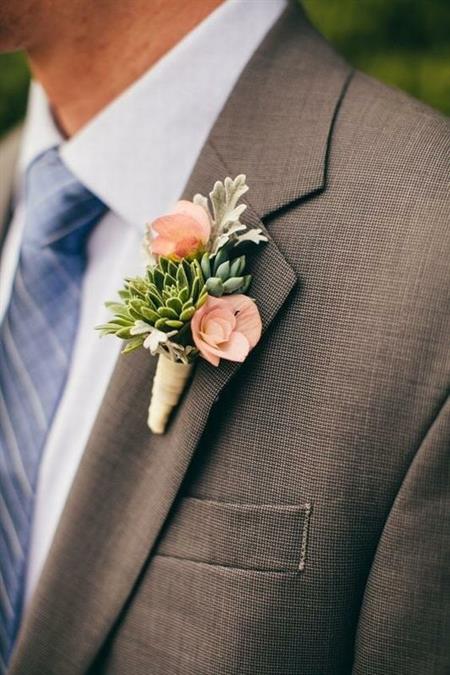 4. Ring Pillow
Silk or satin pillows are the norm with most ring pillows, set yours apart with this DIY living succulent arrangement.



5. Centerpieces
Let your succulent imagination run wild with your table decorations. These center pieces are a great addition for your reception as well as a great gift for guests to take home. Check out this list for succulent center piece ideas.



6. Flower Girl Basket
Here comes the bride. This succulent themed flower girl basket will be the perfect set up for the bride's entrance.



7. Succulent Wreaths
Continue the theme with these lovely succulent wreathes. Make your own with this simple DIY project.



8. Succulent Place Cards
Guide guests to their seats with this unique place cards. Want these for your wedding? Click here.



9. Cake Topper
Move over bride and groom. With this sensational cake top, the succulent is the star!

10. Aisle Décor



11. Ceremony Arch or Back Drop
Perfect way to add the ultimate back drop for your wedding ceremony or guest photos in your reception area.



12. Guest Favors
Succulent favors are a great way for guests to take your wedding theme home and plant in their own personal gardens.



13. Hair Pieces
Complement your entire wedding theme with simple succulent hair pieces. Large or small, these living accessories will be the perfect finish for your wedding ensemble.



If you're interested in hosting your wedding at Superstition Mountain Golf and Country Club, call us at: 480-677-6639
Looking for more unique ideas to incorporate into your wedding? Be sure to read 4 creative wedding guest book ideas and donut wall DIY and styling-inspiration to make your special day even more magical.