4 Refreshing Summer Cocktails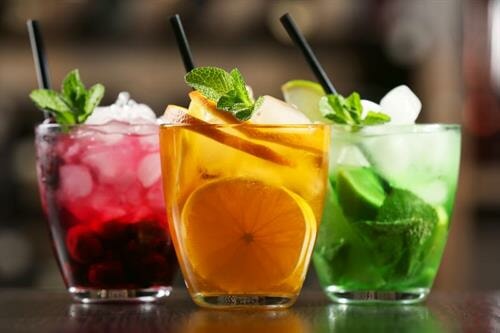 Celebrate and enjoy the summer season on our two Nicklaus-designed golf courses, and then cool off with these refreshing summer cocktails.
1. Blueberry Mint Juleps
Sweet, tangy and served ice cold, this recipe is a fruity twist on the classic Mint Julep. Blueberries are the star with a combination of mint, simple syrup and bourbon making this cocktail great for summer days and nights.
2. Le Fizz
Refreshing, bubbly and balanced, the Le Fizz features vodka, elderflower liqueur (a fruity and fragrant spirit derived from flowers,) freshly squeezed lime juice and soda water.
3. Margarita
A summer cocktail list wouldn't be complete without featuring the timeless Margarita. For optimal refreshment and taste, skip pre-made mixes and create this drink from scratch. With the tang of fresh lime, sweet orange liqueur and distinctive note of tequila, the classic Margarita is hard to beat. If you're looking for a unique twist on the drink, try these Coconut Margarita and Cucumber Margarita recipes.
4. Moscow Mule
Served in its signature copper mug and garnished with lime, the Moscow Mule has grown in popularity in recent years. Vodka meets ginger beer and lime juice over ice for this simple and delicious summer beverage.
With one of these cocktails in hand you can sit back, relax and enjoy the desert mountain views of our private golf course community, or stop by the bar at Superstition Mountain Golf & Country Club and let our expert staff serve you your next cold one.