4 Romantic Food & Wine Pairings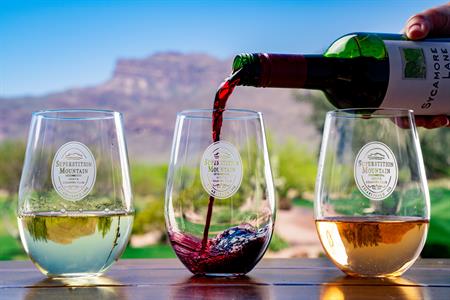 Looking to treat your special someone to a romantic dinner, but don't want to deal with reservations? Turn your dining room into a five-star restaurant with these delicious food and wine pairings guaranteed to make your sweetheart smile.
1. Charcuterie & Red Wine
Filled with curated meats, decadent chesses and refreshing fruits, charcuterie boards are the perfect elegant appetizer. Arrange your board with salami, ham and prosciutto and pair with brie, gouda, blue cheese and sliced white cheddar. Add in apple slices, grapes and pears for a nice palette cleanser in between bites. Sprinkle in some pecans or almonds and you've made an outstanding culinary creation. Pair with rustic red wines like Cabernet Sauvignon or Malbec to enhance the board's bold flavors.


2. Seafood & White Wine
Impress your sweetheart and dinner guests with a tasty seafood dish. Prepare buttery lobster tails, seared scallops, lemon garlic salmon or Tuscan butter shrimp for your main course, and serve with roasted vegetables and garlic mashed potatoes for some heavenly sides. Pair with light white wines like Sauvignon Blanc, Pinot Grigio or champagne to highlight the seafood's delicate flavors. Top off your meal with a sweet, but light, treat like sorbet.


3. Steak & Red Wine
Nothing says "I love you" more than a rich steak dinner. Consider making herb-crusted filet mignon, garlic butter ribeye, flank steak with classic chimichurri or pan seared New York strip for a hearty main dish. Serve with garlic butter mushrooms, balsamic roasted carrots and cheesy garlic rolls for an incredible combo. Accompany your meal with a glass of bold red wine to complement the meat's texture and bold flavors. Consider a Zinfandel or Cabernet. Finish it off with a decadent dessert like chocolate covered strawberries, chocolate cheesecake or salted caramel chocolate chip cookie bars to create a meal you'll never forget.

4. Cream Sauce Pasta & White Wine
Endless pasta and wine always makes for a romantic evening. Instead of serving the traditional spaghetti and meatballs, change it up with indulgent dishes like chicken piccata pasta, creamy caprese stuffed shells, chicken Florentine pasta or lemon ricotta pasta. Pair with a fresh white wine like Sauvignon Blanc, Pinot Grigio, Prosecco or Arneis to match the pasta's light cream base and add a delightful complement to the dish. You can also try a lighter red wine like Pinot Noir for some extra variety. End your evening with an authentic Italian treat like tiramisu, homemade cannoli or amaretto biscotti.


Looking to ditch the kitchen this Valentine's Day? At Superstition Mountain Golf and Country Club, we offer a well-cultivated selection of fine wines, craft beer, classic cocktails and exquisite gourmet creations guaranteed to please everyone's palate. Visit our dining room page or give us a call at 480-983-3200 to learn more.
To make the day extra sweet read our tips on How to Make Valentine's Day Special.