4 Ways to Pair Drinks with Food in the Summer
While the first day of summer is June 21, the beloved season has already arrived at our private golf community in Phoenix. With endless sunshine and beautiful sunsets, summer brings family barbeques and poolside lunches. Here are some of our favorite food and beverage pairings that are sure to keep you satisfied all summer long.
1. Antipasto Platter and Wine
Ah, the classic antipasto platter. What better way to celebrate summer than with fresh fruits, olives and cheese selections? This meal is light, yet satisfying, and will impress your guests with minimal effort. Check out this quick how-to feature about building the perfect antipasto platter for your next party.
Since antipasto dishes tend to be on the lighter side, your wine selection should be as well. Whole Foods Market recommends a sparkling rosé. Lighter white wines, like pinot grigio, also pair well with this type of dish.
2. Burgers and Beer
Grilling poolside is about as cliché as it gets for summer. We must admit – it's one of our all-time favorite seasonal meals. Juicy burgers with decadent toppings like cheese, mushrooms and grilled onions are great for the taste buds. The only downside is that it may feel a bit heavy on the stomach. Counter balance the richness of your burger with a crisp pale ale. The carbonation from the beer will cleanse your pallet in between bites and cut through the weight of the burger. Check out some of these other beer pairing ideas from Thrillist.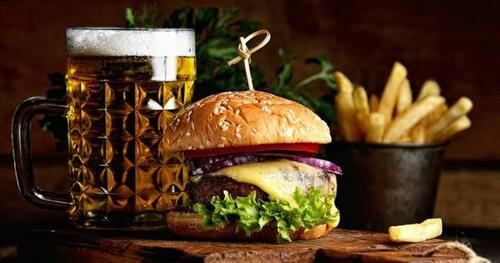 3. Tacos and Tequila
Our private gated community is located just outside Phoenix, so believe us when we say, Valley of the Sun residents love their Mexican food. In our minds, it wouldn't officially be summer if we didn't enjoy tacos and an ice-cold margarita on the back patio.
Build-your-own taco stations, like this one, are perfect for making sure there's something for everyone. Adding easy side dishes like grilled Mexican corn and a giant bowl of guacamole will complete the perfect family-style spread.
Now that the food is in order, it's time to bring out the blender and whip up some frozen margaritas to sip on the back patio. You can never go wrong with a classic recipe but don't be afraid to mix things up, like this peach rendition from Martha Stewart. While margaritas are a great accompaniment for tacos, if you want to branch out, try any of these tequila-centric cocktails.
4. Mocktails
If you or a guest aren't drinking alcohol, you don't have to feel like you're missing out at the party. Try serving up one of these mocktails from Cooking Light that mimic the flavors of your cocktails. They look as good as they taste and are perfect for party-goers of all ages.
Party planning isn't for everyone, so we understand if it's not your cup of tea. The great news is, if you're one of our club members, we can do the work for you! When you visit the Clubhouse Dining Room, our service staff can help you select the perfect food and beverage pairing to enjoy on the club's wrap-around patio.