6 steps to Choreograph a Wedding Dance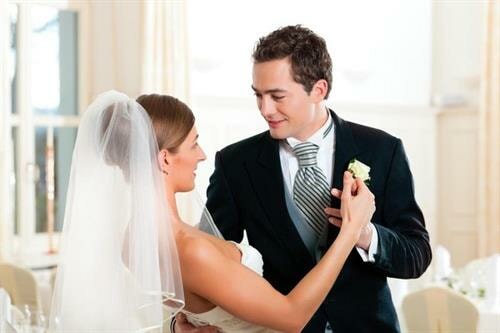 Weddings offer plenty of opportunities to dance the night away. Why not spice up your first dance, daddy-daughter dance, mother-son dance or groomsmen's dance with some fun choreography? Choreographing a song can seem a little daunting, especially if this is your first time dancing in public. That's why we broke it down for you in 6 simple steps.



Step #1: Choose Your Tune


While it's fun to choose a song that goes along with your overall theme, you can usually get away with music that doesn't quite fit when it comes to a choreographed dance. Here are some things to keep in mind as you narrow down your song options:


Is it danceable? Put the song on, get up and start dancing. There are lots of great songs out there that make for terrible dance songs.


Is it family friendly? You can do what you want at your wedding, but it's always good to keep things classy by considering the families with young children that may be in the crowd.


Will it get boring to watch after a little while? The whole point of choreographing a dance at your wedding is to make things more fun for your guests. If you think a song might get a little dull after three minutes, consider mashing together a variety of songs and dance styles.
Check out this list of 100 great wedding songs from PopSugar for some inspiration.



Step #2: Watch a LOT of YouTube Videos


We'll let you in on a little secret — most dance routines out there are a mash-up of other people's moves, so don't stress about being too original. Start your research by watching a ton of YouTube videos and writing down the different dance moves and sequences that would work with the song(s) that you've chosen. Here are a couple fun videos to get you started:

First Dance
Father-Daughter Dance
Mother-Son Dance
Groomsmen Dance
Bridesmaid Dance



Step #3: Consider Your Venue


As you form a vision for your wedding dance, take into consideration the size and quality of the dance floor at your wedding venue. For example, if you're wanting to do a dance number with all 10 of your bridesmaids, the Lower Courtyard at Superstition Mountain Golf and Country Club offers plenty of space, while the dance floors at other Mesa wedding venues might be significantly smaller.



Step #4: Put it All Together


Once you have a general idea of some dance moves you want do, it's time to start piecing them together. The majority of songs are in 4/4 time, meaning that you'll usually do any one move for either four or eight beats. So if you really like to disco, you can do it for either four or eight counts in the song before moving onto the next dance move.

It's helpful to write down the various sections of the dance, giving them names that make sense. Your written dance routine might look something like:
Shake hips, 4 counts
Shimmy, 4 counts
Funky chicken, 8 counts
Repeat



Step #5: Practice, Practice, Practice


Schedule some time to practice before the big day. While everyone will love your dance no matter what, you'll feel more comfortable and better able to recall the dance moves if you put in some solid practice time.

Get the performance jitters out of the way (and make sure you can remember the whole thing!) by performing the dance for a small group of people in the days leading up to the wedding.



Step #6: Get Out There and Have Fun


At the end of the day, it doesn't matter how intricate your routine was or how polished your performance. What matters is having a good time during your special celebration. So don't stress — just relax and have some fun!

Interested in more fun ideas to incorporate into your wedding? Take a look at "5 Wedding Reception Ideas" or "4 creative Wedding Guest Book Ideas". Contact our team of experts to start planning your special day.