6 Tips for a Successful Dinner Party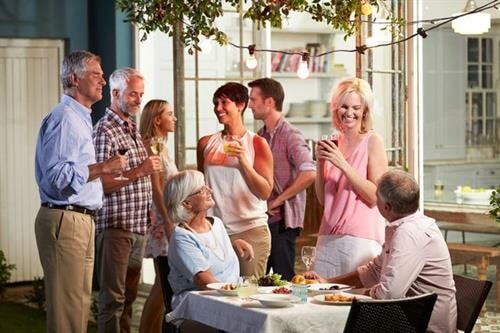 Hosting a dinner party at home in our private golf course community can be quite the undertaking if you're not prepared. Mastering a meal and charming guests can be easier than you think with these tips, tricks and entertaining essentials.



1. Keep it Personal


Enjoy the company of your guests and save on stress by keeping the number invited to a small manageable amount. Not only will you be able to spend quality time with your guests, the fewer visitors will ease preparation stress and ensure you and your company don't have to shout to hear one another. Add a personal touch by sending out handwritten invitations. In this day and age, where digital "e-vites" and social media requests are the norm, a handwritten save-the-date or invitation will stand out and be appreciated by your guests.



2. Perfect Preparation


The key to a smooth party? Preparation, preparation and more preparation. To enjoy the most of your guest's presence, take care of the unpleasant tasks prior to your event. Cleaning and organization can be taken care of in the days and hours beforehand. Place settings can be laid out the night before as well, reducing the amount of prep time you must spend on the day of. Speaking about the day of, to make clean up easier, ensure your dishwasher and trash can are completely empty at the start of the party.



3. Get Out of the Kitchen


A simple menu can go a long way to making your event a hit. Preparing ingredients ahead of time or making dishes that can be easily warmed up in the oven while guests are arriving will let you enjoy more time with company and less time in the kitchen. Consider serving a one-pot meal using the convenience and ease of crockpots and dishes that allow you to cook and serve in the same pan. Another option is to stay out of the kitchen entirely by catering your event with the team here at Superstition Mountain Golf and Country Club.



4. Create a Timeline


Keep the party flowing with an agenda and timing of when meals and other important events will be occurring. Fill your event with activities to keep your guests laughing and having a great time from start to finish. Add an event timeline to your invitation to inform and excite guests on the party's events.



5. Unique Décor and Tableware


While traditional tableware is always a safe play, you can step up your hosting game by investing in high-quality and unique glassware, plates and serving dishes. Unusual colors, patterns and styles will bring any table setting to life!



6. Enjoy!


Last but certainly not least, enjoy the company of your guests! Chances are there will be at least one hiccup in your evening but with these tips, tricks and hosting essentials, you and your guests will enjoy a meal while making priceless memories to be remembered for years to come.