Best Whiskey Tasting and Pairing Tips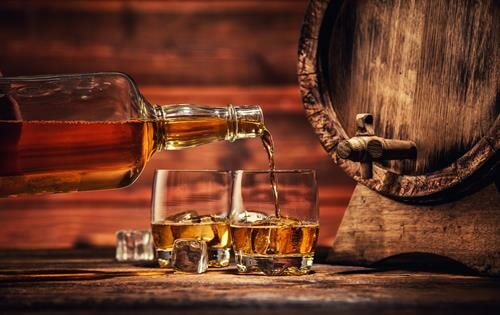 Once known as the "water of vitality," whiskey is a historic beverage that is one of the most popular spirits in the world. From bourbons, scotch to single malt, rye and blended, whiskeys come in a variety of styles and flavor profiles. If you're eager to try whiskey for the first time or take your knowledge to the next level, these tasting and pairing tips are for you.



1. Use the Correct Glass


While whiskey can be enjoyed from any cup or glass, true aficionados recommend serving the spirit in a rocks or tulip glass. Rocks glasses are essentially short tumblers that hold 6-10 ounces of liquid and are the go-to vessel for serving whiskey. Tulip glasses take the rocks glass to the next level, featuring a narrow top which helps concentrate the aromas of the whiskey to the nose of the drinker.



2. Colors of Whiskey


Whiskeys come in a variety of colors, flavors and ages. The darker a whiskey typically means the whiskey has been aged in a wood barrel for more time. Some whiskeys, however, may be aged for extended periods of time may appear fainter because they were aged in barrels used previously beforehand, adding flavor but less color.



3. Add Water


While adding water to whiskey is up to the drinker, some whiskeys with higher alcoholic percentages can be overbearing to the first timer. Adding just a teaspoon of water to 2 ounces of whiskey can help open the spirit's flavor and dilute the drink's intensity, making it more manageable to enjoy.



4. Pair Your Whiskey


You may have heard of pairing wine with cheese, but what about whiskey? Bourbons, scotches and other types of whiskey compliment varying flavors of cheese. For sweeter spirits, we suggest softer cheeses like Brie and Gorgonzola, but for smokier whiskeys, try pairing them with a stronger selection of Cheddar, Fontina or Havarti.

Whiskeys also pair well with seafood, beef, pork and poultry. However, be cautious with pairing similarly flavored spirits and food because one flavor will dominate and disrupt the other. For example, the smoky flavor from a whiskey will completely overwhelm the delicate flavor of a smoked salmon. Instead, try pairing your spirits with dishes that are cooked with herbs, spices and a bit of oil and fat.

For desert, try pairing your whiskey with dark chocolate or milk chocolate with nuts, tart fruit or a sweet pie like pecan or pumpkin.

Next time you're ready to unwind after a round of golf on our two Nicklaus-designed golf courses, bypass the beer or wine and give a whiskey a try. Our bar and restaurant staff at the Club are happy to help find a spirit that is right for you.