Best Wine List for the Summer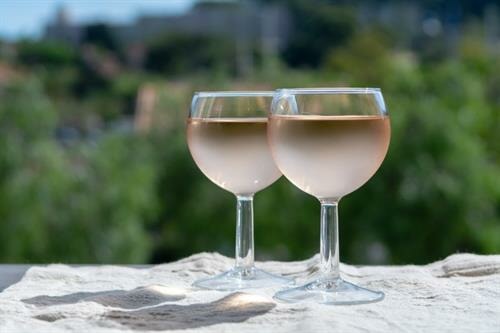 As the weather at Superstition Mountain Golf & Country Club heats up for the summer, it's time to turn our wine palette to the lighter side. Summer is a great time to try some of the many wine options that tend to be lighter, fruitier and crisper.
1. Looking to try something new?
The Spanish White, Albarino, is a delicious treat on a warm sunny day. Albarino is floral and citrusy, rarely sees time in oak and is best when it's young. This is a great value wine as it is typically priced very reasonably, and though it goes great with seafood, it is refreshing all on its own. Browse through the selection at wine.com and see for yourself just how reasonable and refreshing it is.
2. Real wine drinkers drink pink.
Wine snobs might fear being seen with a glass of pink in their hand and others assuming they're drinking white zin, but with the variety of delicious choices of Roses that are out there, everyone should be bragging that they're drinking pink this summer! Roses are great in the summer, and with the dry climate here, Arizonans should enjoy them all year. Great Roses are made all over the wine world, look for some of the best from Provence and the Southern Rhone in France as well as California.
3. You can never go wrong with the classic whites.
Pinot Grigio, Sauvignon Blanc and Chardonnay but keep a couple of things in mind. No need to spend a fortune on any of these whites during the summer as there are many great wine options at great prices in most of the wine stores you'll shop this summer. Pinot Grigio is an easy drinker that even the novice wine drinker can appreciate. Sauvignon Blanc's vary greatly from region to region, for one that's sure to cleanse the palette and quench your thirst, go with one from New Zealand. They put Sauvignon Blanc on the modern wine map and one taste will tell you why. California Chardonnays can get heavy with their oak and butter tendencies, try the light Chardonnay from France labeled Chablis. These will still give you the varietal characteristics you love in a Chardonnay with a light, crisp finish.
Remember with all your whites to keep them chilled and ready to go as friends come over to hang by the pool or share a beverage after a round of golf, white wines are great to have on hand for every occasion!
Members at Superstition Mountain can enjoy a glass of crisp and refreshing wine all summer long when they stop by the restaurant. To learn more about how you can join the club and take advantage of delicious wine offerings, check out our golf membership cost.