Discover Arizona's Best Distillery, Brewery and Meadery
In addition to the exceptional events and services onsite at Superstition Mountain Golf and Country Club, our private golf club members hit the road with us for a variety of offsite outings. Sure, we all love the traditional wine tasting but it's fun to hit the road in search of something just a little different. Here are a few of our favorite local spots for non-wine libations.
Arizona Distilling Co.
A micro distillery that specializes in small batch, hand-crafted spirits using local ingredients, this local company has gained national recognition for its award-winning spirits. The acclaimed Commerce Gin pays tribute to Arizona's five Cs with its own five Cs: cardamom, coriander, cumin, cinnamon and citrus. They also add eight locally sourced botanicals that take this gin up a few notches.
Fun Fact: The company's Desert Durum Wheat Whiskey is Arizona's first grain-to-bottle whiskey.
Take a tour of the distillery to learn more about the process then sit down to enjoy a cocktail and bite to eat.
Arizona Distilling Co.
601 W University Avenue
Tempe, AZ 85281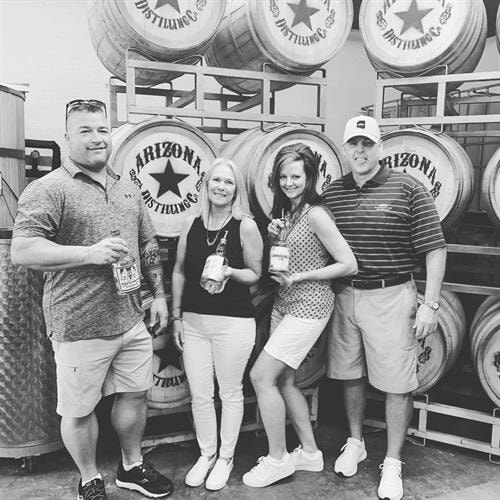 PXG Beer Company was founded by a group of local entrepreneurs and industry veterans who are passionate about Phoenix and, of course, great beer. The company has been reigniting the craft beer scene in Arizona and prides itself on simply, "making beer for people who like beer." But there's nothing simple or boring about its craft beer offerings. Ranging from IPAs and Ales to Sour beers and seasonal selections, there's something for every palate.
The Brewery and Tap Room has a wonderfully casual atmosphere with indoor artificial turf, corn hole and picnic-style seating.
Brewery + Tap Room
3002 E Washington Street
Phoenix, AZ 85034
With a mission "to reintroduce the world's oldest fermented beverage to mankind," Superstition Meadery is a must try for those who are curious about mead or already have an affinity for the fermented honey libation. Since 2012 Superstition Meadery has created 300 unique meads and hard ciders, running the gamut from dry to sweet in both still and sparkling varietals.
There are two locations:
The Prescott Tasting Room is a great place to sit back in the pines and enjoy mead, cider and a delicious tapas menu. Get the full experience with a tasting flight and sample offerings made with Arizona honey and creative fruit and herb pairings. The meadery's Blueberry Spaceship Box is one of the top-rated ciders in the world and its Lagrimas de Oro mead won the gold medal at the 2018 Mazer Cup International.
Superstition Downtown is the self-proclaimed world's first mead and food paring restaurant. The diverse menu ranges from tapas and charcuterie to elevated entrees such as fire grilled Chilean Sea Bass and Spicy Asian Bison Skirt Steak.

Superstition Downtown Prescott Tasting Room
1110 East Washington Street 120 W Gurley Street
Phoenix, AZ 85304 Prescott, AZ 86301
Still craving a wine tasting? Check out our blog on The Best Wineries in Arizona.