Employee Spotlight - Marian McGill, Assistant General Manager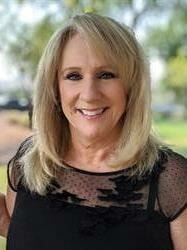 The staff of our golf course communities in Arizona is one of the reasons why Superstition Mountain Golf & Country Club is successful. We want to showcase the incredible team members we have, get to know Assistant General Manager and industry veteran, Marian McGill, in her own words.
Where did you grow up?
Born and raised in Cincinnati, Ohio. Earned a Bachelor's Degree in Psychology from Xavier University.


How long have you worked in this industry?
17 years.


What is the biggest trend you see in the industry currently?
Fitness and wellness are infiltrating every area of the Club from golf to dining options, spa services to fitness centers.

In your opinion, what is the best thing about or working for Superstition Mountain Golf & Country Club?
By far, it's the people (both members and staff) that make Superstition Mountain a special place to be. There is a mutual feeling of respect and friendliness that makes it a joy to come to work each day


What sets Superstition Mountain Golf & Country Club apart from other private golf course communities in the U.S.?
The views of the mountain and desert landscape will take your breath away, but the people in the community are so warm and welcoming you will never want to leave the gates.


A typical day in your life includes…
Going to the gym at 5am several times a week; it really jump-starts my day. At work, there are no "typical days." As the Assistant General Manager and Membership Director, I make the rounds to the Golf Shop, Restaurant, Administrative Offices and Fitness Center. I could go from desk work, to countless meetings, to greeting members at an event, to jumping on a golf cart to give a golf course tour. The variety is endless, which is what I love about my work days!


Do you belong to or have you held a position in any professional organizations? If so, please list with current or past positions.
I have served on the Board of the Greater Phoenix Chapter of the Professional Club Marketing Association (PCMA). I'm a member of the Club Managers Association of America (CMAA) and the Southwest Chapter of CMAA, where I am currently pursuing my Certified Club Manager (CCM) certification.


What are your hobbies?
I love to golf; I hack at it, although I've had a hole-in-one (it's a fickle game). I'm an avid reader, experimental cook and amateur decorator. There will always be a football or baseball game on the TV at my house, or an HGTV marathon.


For everything you do for our members and residents of Superstition Mountain Golf and Country Club, we thank you Marian. Meet the rest of our staff, and stay tuned for future staff spotlights.